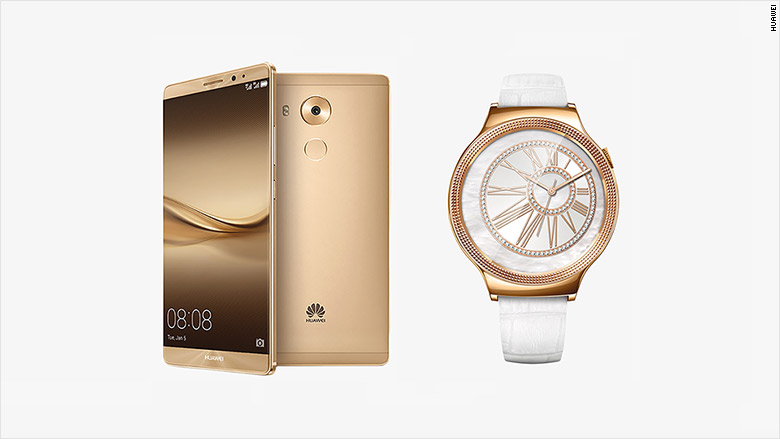 China's top smartphone manufacturer is ready to prove that it can compete with Apple and Samsung at the higher end of the market.
Huawei presented several new mobile devices on Tuesday at the Consumer Electronics Show in Las Vegas, including two smartphones, two smartwatches and a tablet -- all of which are markedly different from its past offerings.
This is an especially big moment for Huawei in the United States, where it has largely been known for building cheap phones for carriers like T-Mobile (TMUS) and AT&T (T).
But Huawei is now moving to sell devices under its own brand. The new Mate 8 smartphone and the Elegant and Jewel smartwatches show Huawei's strategy of building eye-catching products that satisfy specific user needs -- at around the same price of its competitors.
"Huawei Mate 8"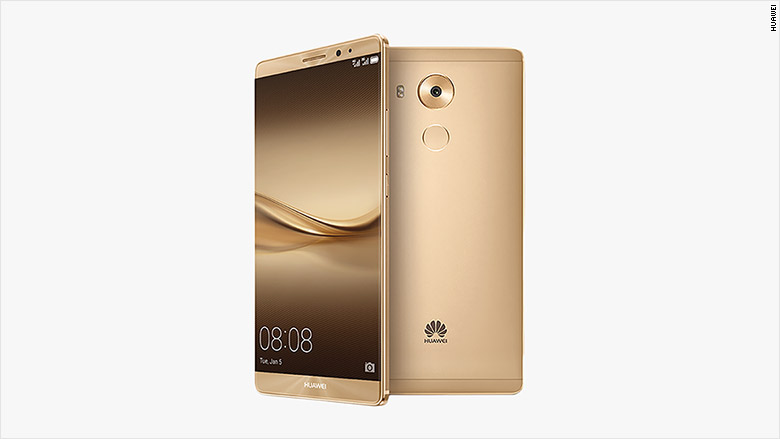 The Huawei Mate 8 is made for people who want a powerful and sleek smartphone that lasts more than a day without charging.
Huawei claims its 6-inch phone will last a day and a half on a full charge with heavy usage (28 hours of 3G calling or 20 hours of 4G Internet browsing).
In comparison, Apple says its iPhone 6S Plus lasts up to 24 hours of 3G talk time, and 12 hours of web surfing.
Huawei also claims the Mate 8 phone's 4,000 mAh battery can charge to nearly 40% capacity in half an hour -- 105% faster than the 6S Plus.
At its core, the Mate 8 contains a super-fast computer chip composed of four 2.3 GHz ARM A72 processors and four 1.8 GHz ARM A53 processors.
Huawei seems to be targeting business professionals who may prefer Samsung devices. The Mate 8 has native features like a split-screen function and a built-in business card scanner that recognizes 17 languages.
There's also a fingerprint sensor on the back of the phone, password lock for microSD cards, and three microphones for audio recording and directional playback.
One of the phone's coolest features may be its ability to record a video of the screen. To do so, Huawei is introducing a new way to interact with a phone: by knocking on the screen twice with two knuckles.
One of the biggest open questions is how well Huawei's customized mobile operating system -- based on Android Marshmallow -- will perform.
The 32GB base model of the Mate 8 costs €599 (about $643).
"Huawei Watch for Lady"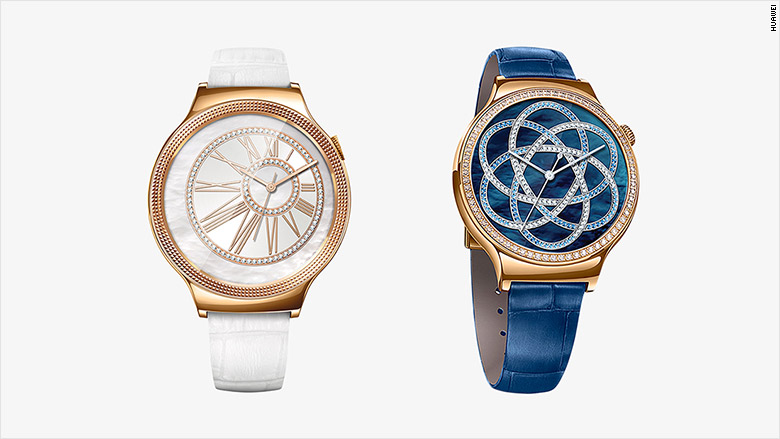 Huawei is also trying to win a share of the growing smartwatch market with two new devices designed specifically for women.
The company partnered with Swarovski on the Elegant -- "a more understated" choice -- and the Jewel, which features a lot more bling around the watch face. Both watch cases are plated in rose gold, use Swarovski crystals and are compatible with iPhones and Android phones.
While Apple and Samsung have both focused on making their smartwatches companion pieces to their smartphones, Huawei is going after those who view a smartwatch like an accessory or a piece of jewelry.
Huawei's new smartwatches are in the same price range as the Apple Watch: $499 for the Elegant, and $599 for the Jewel.