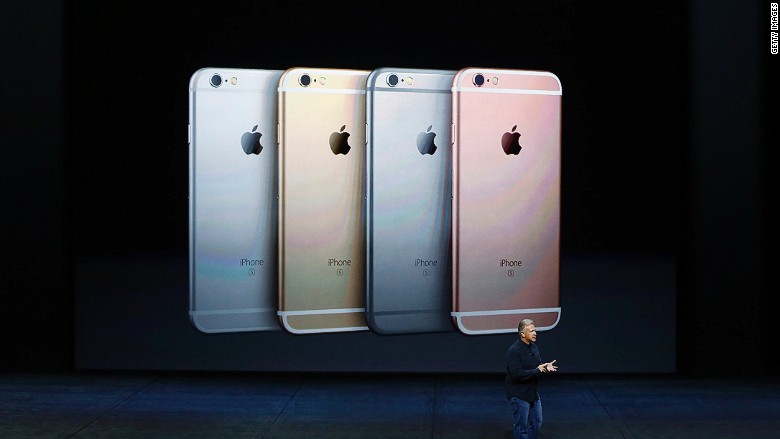 Apple shares have started the New Year as they ended 2015: on the slide due to worries about poor sales of its latest iPhones.
The stock is down 1.2% in Wednesday trading, after falling 2.5% on Tuesday. Those losses follow a decline of 11.5% in December.
The trigger appears to have been a report earlier this week that customers aren't buying into the incremental iPhone upgrade launched in September, forcing Apple (AAPL) to slow production of the latest models.
Japan's Nikkei newspaper reported that Apple told suppliers it will reduce output of the iPhone 6S and iPhone 6S Plus by around 30% this quarter.
Apple did not immediately respond to a request for comment.
Related: Why Apple's stock is down in 2015: iPhone worries
The report comes as overall demand for smartphones softens. According to a survey by Accenture, most people are happy with their existing phones, and only 48% plan on buying a new model this year, down from 54% in 2015.
"The slowdown in the consumer technology market is irrefutable, serious and global," said Sami Luukkonen, global managing director for Accenture.
Related: Another 'sign' points to the Apple iPhone 6C in April
The buzz around the Apple Watch helped the company offset weaker phone demand in 2015, but that too may fade. Accenture said only 13% of those surveyed plan on buying a smartwatch this year.
The Nikkei report also put pressure on shares in Apple's suppliers, such as Taiwan's Foxconn and Arm Holdings in the U.K. A similar slowdown in orders for the iPhone in 2013 forced suppliers to scale back production and seek out orders from Apple rivals.
Foxconn stock fell by 4% on Wednesday. The company said it had a strict policy of not commenting on any matters related to customers or their products.
Shares in Arm (ARMH) were down 3% in London trading.