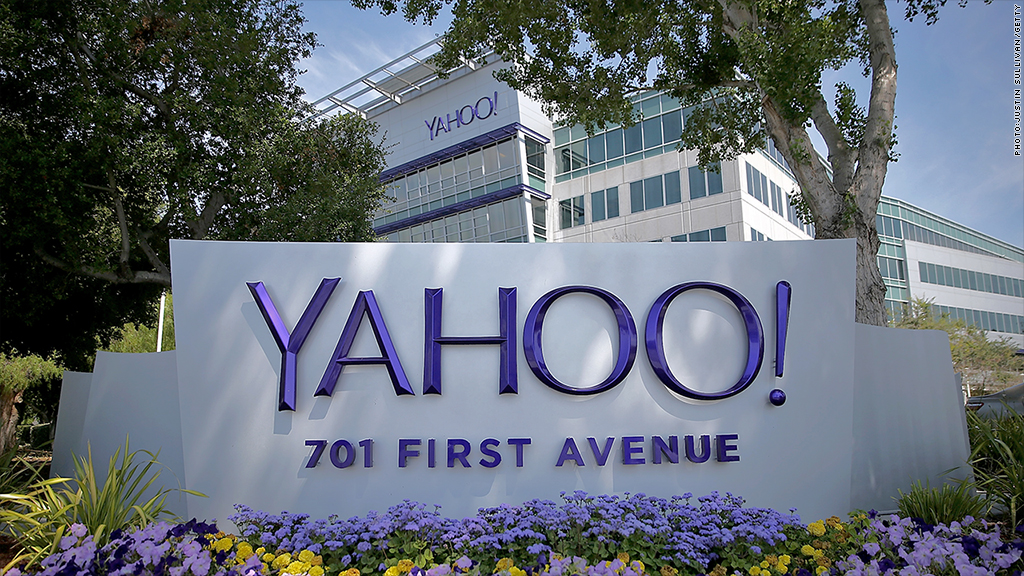 One hedge fund has had enough of Marissa Mayer as CEO of Yahoo.
Starboard Value, an activist investing firm that owns a stake in Yahoo, wrote a scathing letter Wednesday to Mayer, Yahoo chairman Maynard Webb and the rest of the company's board.
In the letter, Starboard Value managing member Jeffrey Smith said that Mayer, who has been CEO of Yahoo (YHOO) since July 2012, has failed to turn around the company -- and that it's now time for new leadership at the top.
"It appears that investors have lost all confidence in management and the Board," Smith said.
He added that "to be successful, dramatically different thinking is required, together with significant changes across all aspects of the business starting at the board level, and including executive leadership."
This is not the first time that Smith has attacked Yahoo. He has written several letters to Yahoo since Starboard first acquired a stake in the struggling Internet company in the third quarter of 2014.
Related: One hedge fund's plan to fix Yahoo: Fire 9,000 people -- including Marissa Mayer
Smith first urged Yahoo to merge with AOL. But AOL wound up selling itself to Verizon (VZ) last year.
He most recently called for Yahoo to abandon its plan to spin off its 384 million shares in Chinese e-commerce company Alibaba (BABA) and instead look for a buyer of the core business.
Yahoo had wanted to raise cash by selling its Alibaba stock-- which it first acquired in 2005. But the IRS refused to grant tax-free status to the sale, meaning that Yahoo would have faced a huge tax bill by spinning off the shares.
It didn't help that the value of Yahoo's Alibaba stake plunged last year due to concerns about pirated goods on Alibaba's sites as well as worries about a slowdown in the Chinese economy.
Yahoo did wind up killing the Alibaba spin-off proposal last December. But it now plans to simply spin off its core business and a separate stake in Yahoo Japan (YAHOF) to shareholders -- a move that may not change much.
Smith acknowledged that in his letter.
"Instead of heeding our advice and concurrently announcing that you would explore a sale of the Core Business, you have now hid behind a plan to spin-off the Core Business and Yahoo Japan without fully understanding the alternative options," he wrote.
Related: Yahoo to spin off core business and keep Alibaba stake
Smith is not alone in expressing his frustrations.
There have been growing calls for Yahoo to let Mayer go. The board has continued to express support for her, however. What's more, Mayer recently gave birth to twins. Firing a woman who just had kids could be a PR nightmare.
But the numbers don't lie. Despite her impressive background at Google, Mayer has been faced with the same problem that all her predecessors had -- trying to find an identity for Yahoo.
Shares of Yahoo fell more than 30% last year and the company has been unable to make meaningful headway in the online advertising market. Revenue growth has been sluggish.
Yahoo has lost market share to Google (GOOGL) and Facebook (FB). Microsoft (MSFT) and Twitter (TWTR) are also gaining ground, as are startups like Snapchat.
Related: Who would want to buy Yahoo?
Despite this, Smith wrote that he thinks Yahoo still could find a "credible buyer" for the core business. And he said the company should not ignore interest from possible acquirers.
Smith ended the letter by saying that he hopes Yahoo will work with Starboard. But he warned Yahoo that if the company continues to refuse to work with him, Starboard may seek to oust board members.
"An election contest may very well be needed so that shareholders can replace a majority of the Board with directors who will represent their best interests and approach the situation with an open mind and a fresh perspective," he wrote.
That's not an empty threat. Starboard successfully led an overhaul of the board at Olive Garden owner Darden Restaurants (DRI) in 2014. So Mayer may need to watch her back.
A spokesperson for Yahoo said that the company engages in "regular, open dialogue with all our shareholders." But the spokesperson did not say if Yahoo was having discussions with Starboard.
The Yahoo spokesperson added that the company will "share additional plans for a more focused Yahoo" on its next earnings call later this month -- if not before then. And the spokesperson defended the current strategy.
"Yahoo is in the midst of a multiyear transformation. We attract more than a billion people every month and we've built a profitable, billion dollar business in mobile, video, native and social that we expect will drive sustainable growth," the spokesperson said.