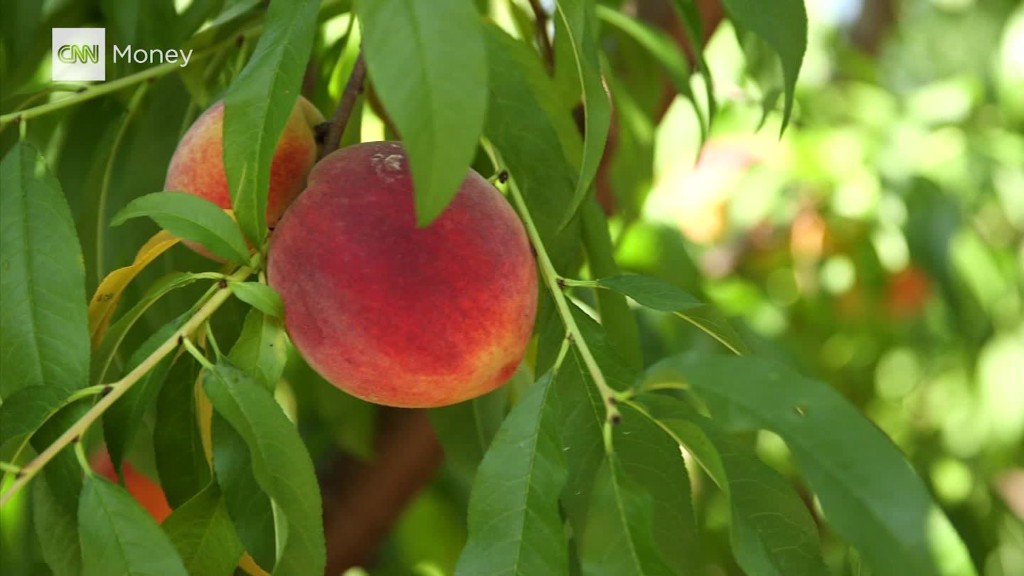 Walmart's stock is almost as hot as those Patti LaBelle sweet potato pies flying off the shelves in its stores.
Even though the overall market is off to a dreadful start this year, Walmart (WMT) was up 2% Thursday and has gained nearly 6% in the past four days.
It is the only stock in the Dow in positive territory so far in 2016. The Dow has fallen almost 5% this week.
What a difference a change of the calendar makes, huh? Walmart was the WORST stock in the Dow last year, plunging nearly 30%.
The retailer warned last October that its sales were slowing, a sign of the tough competition it was facing from Amazon (AMZN) online, Target (TGT) in mass merchandise and Costco (COST) and Kroger (KR) in groceries.
Walmart also said profits would take a hit this year due to higher labor costs resulting from the minimum wage hike for its workers, as well as bigger investments it was making in its e-commerce operations.
So why is Walmart's stock up all of a sudden?
Related: These are the worst stocks of 2015
Nothing has really changed for the company's fundamentals in the past few days.
Analysts are still predicting that sales fell slightly during the holidays and that its fourth quarter profits were down nearly 10%.
But much of this bad news may now be priced into Walmart's share price.
Walmart trades for about 15 times earnings forecasts, a reasonable price for a company of its size and track record. It also offers nice upside to conservative investors looking for income; Walmart's dividend yield is above 3%.
Brian Yarbrough, an analyst with Edward Jones, said Walmart may also be benefiting from the market fears about China. If the economy does start to slow down in the U.S., more consumers may look to pinch pennies by shopping at Walmart.
"It's a flight to safety. Walmart tends to shine when there are concerns about the economy," he said.
And Walmart is not the only retailer that got pummeled last year that's bouncing back so far in 2016. It appears that investors are bargain hunting in the retail stock bin.
"Some of the stocks beaten up last year are performing well so far this year. Investors are looking for values," Yarbrough said.
Shares of Gap (GPS), Kohl's (KSS), Macy's (M) and Staples (SPLS) are all up this week. Macy's even rallied despite warning of lousy holiday sales. Investors cheered the company's plans to close stores and cut staff.
Meanwhile, Amazon -- which more than doubled in 2015 -- has plunged more than 10% in the past few days.
So don't count out those old brick and mortar stores just yet.