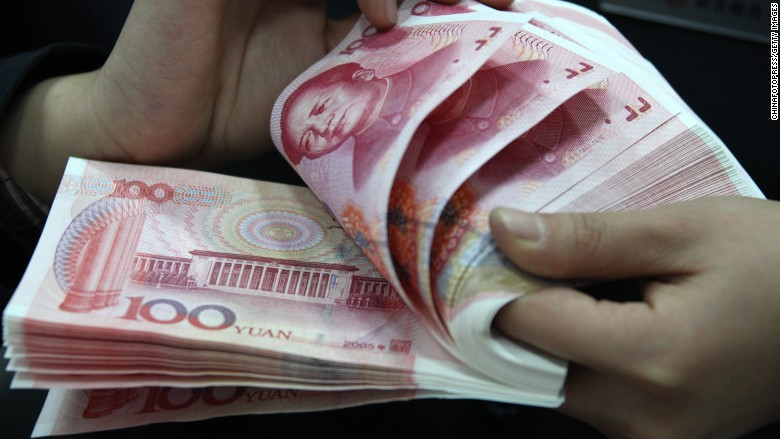 China's currency keeps losing value, sparking debate about a global "currency war."
When China moves to lower the value of the yuan, others in the developing world follow suit. China's currency moves also come at a critical time for the yuan: it was recently placed into the IMF's group of elite global currencies.
Chinese officials may not be starting a currency war, some experts argue. After all, they're allowing market forces to have greater influence over the yuan now.
But the snowball effect of a sinking currency is picking up momentum. The yuan is down 6% against the dollar from a year ago.
China's central bank moved it even lower on Thursday since its surprising devaluation in August. The concern is that it will force other countries to devalue their currencies in a tit-for-tat fashion.
Related: China stock trading abruptly halted after 7% plunge
Indonesia and Thailand's currencies have fallen 9% and 10% respectively over the past year. Vietnam and Taiwan's currencies too have declined 4% and 6%.
China's relationship with these countries has two sides: trade partners and trade competitors. A bit friend and foe.
By devaluing its currency, China gains an advantage in global trade. Its exports become cheaper, and more attractive, to foreign buyers. To stay competitive against China, its trade partners -- mostly in Asia -- devalue as well to maintain a cheaper currency.
"Emerging markets will react negatively," says Ihab Salib, head of international fixed income at Federated Investors. They "have to remain competitive."
Related: China suspends stock market 'circuit breakers'
Global currency losses are also a sign of a much bigger picture. Many emerging market countries rely on exporting commodities like oil, copper and soybeans to fuel their economic growth. But commodity prices have plunged in the past year, hurting growth. At the same time, the strong dollar and rate hikes from the Federal Reserve make borrowing money abroad more expensive.
And experts say it's those forces -- not necessarily the China's central bank -- that are moving the yuan lower.
In fact, China's central bank has in fact spent a ton of money propping up the yuan. It spent $500 billion last year to keep it from devaluing further.
"[Chinese officials are] not trying to weaken it, they're trying to keep it from weakening," says Win Thin, head of emerging market currency at Brown Brothers Harriman. "The market is saying emerging market currencies go weaker, including the yuan."
And it's important to remember that the yuan isn't tanking. It might be at the lowest level in five years, but it's still one of the best performing currencies in emerging markets. Currencies of Brazil, Russia, Turkey and South Africa have all slid by double digits over the year.
Still, China has a much bigger impact on other currencies than those countries.
Whether market forces are moving the yuan lower or China's central bank, the reaction remains the same from China's competitors: devalue their money. What's unclear is how much further these devaluation go and its effect on global economies, and when it stops.