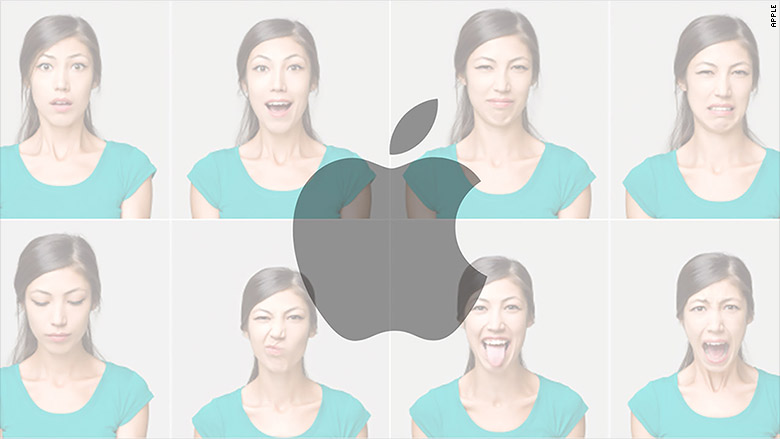 Apple wants to know how you're feeling. It has acquired an artificial intelligence company that uses facial recognition to read a person's emotions.
Emotient, Inc.'s technology analyzes facial expressions to measure emotions like joy, surprise, fear, anger, disgust and contempt.
Apple wouldn't directly confirm the purchase, but emailed a statement that read, "Apple buys smaller technology companies from time to time, and we generally do not discuss our purpose or plans." Apple (AAPL) did not disclose how much it paid for Emotient. The acquisition was first reported by the Wall Street Journal on Thursday.
Smart assistant Siri is the most obvious way that Apple is already deploying artificial intelligence. But the technology could also be used in products like Car Play for more hands-free driver assistance, or in its own marketing efforts.
In October, Apple purchased another artificial intelligence company for an undisclosed amount. UK-based VocalIQ made speed-recognition software that could help Siri speak and listen more like a human.
Emotient's technology is currently sold to marketers, advertisers, and companies that want to know more about their customers. By scanning videos or a person watching an ad, it measures if people are paying attention and engaged, and what their general feelings are about what's being advertised.
Emotient was founded in 2012 by researchers from the University of California, San Diego. It removed much of the information from its website this week and did not respond to a request for comment.
Major tech companies like Microsoft (MSFT), Facebook (FB), and Google (GOOG) are competing to develop the best artificial intelligence and facial recognition technology . If you want a taste of the future without waiting on Apple, Microsoft has a publicly available tool that attempts to detect emotions based on a still photograph.