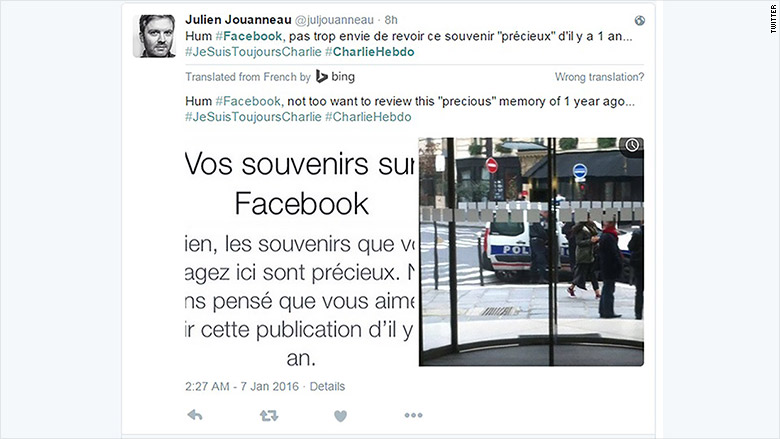 Facebook's "On This Day" feature is bringing up painful memories of the Charlie Hebdo attacks for some French users.
They took to Twitter to share thoughts about the irony in Facebook's word choice in describing the memories as "précieux."
The tweets, first reported by BuzzFeed France, also mock Facebook for the reminder of the tragic day.
"Ah well thank you Facebook, it's true that it's a great memory, we really had a laugh last year," a user named Sarladaise said in a tweet in French.
"Facebook Memory is showing me my posts from the attacks last year. Great memory," a translation of Hugo Richard's tweet reads.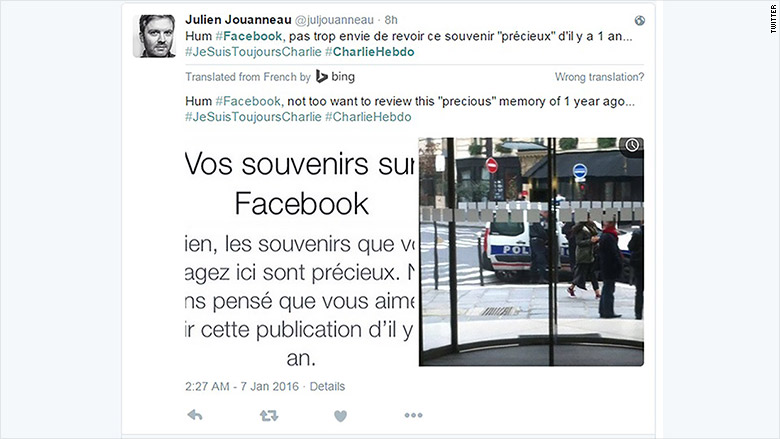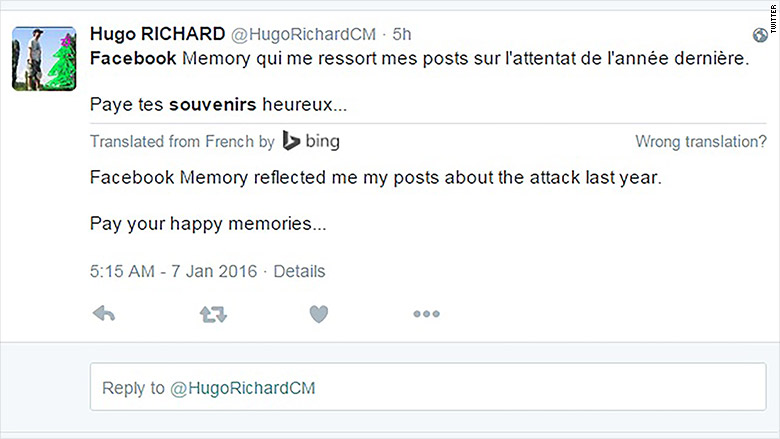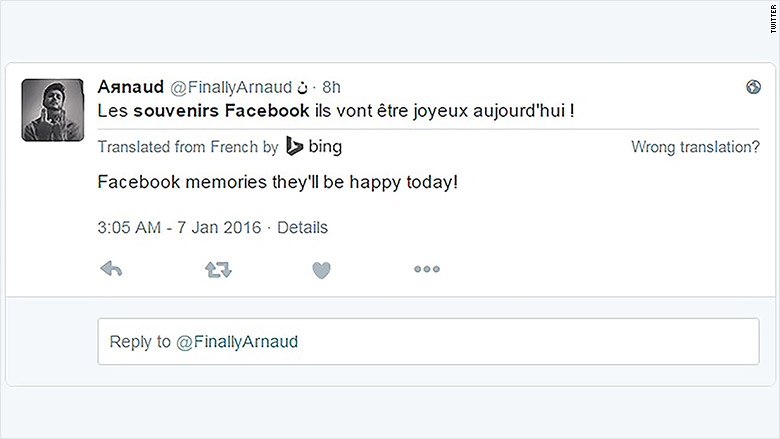 Facebook did not immediately respond to request for comment.
The company launched On This Day early last year as a way for people to see and share past posts. Facebook users can choose to get notifications about their memories or to seek them out themselves.
But not everyone wants to relive their memories, especially sad or painful ones, so people complain about the feature frequently.
Related: Charlie Hebdo anniversary cover says 'The assassin is still out there'
The platform's other nostalgia-triggering tool, the "Year In Review," has been controversial too.
In December of 2014, Facebook apologized to a father who lost his 6-year-old daughter for reminding him of the memory through his Year In Review after a blog post he wrote went viral.
"We can do better," a Facebook product manager said at the time.
Related: Facebook can now hide your exes
Since then, Facebook has made changes to the way it helps people remember (and forget).
Late last year, Facebook began testing a new feature that lets people limit what they see about their exes after they change their relationships status on the platform.
The company also altered the way its algorithm selects posts for Year In Review lookbacks, and added filters to On This Day so that people can block specific dates and people from reminders.