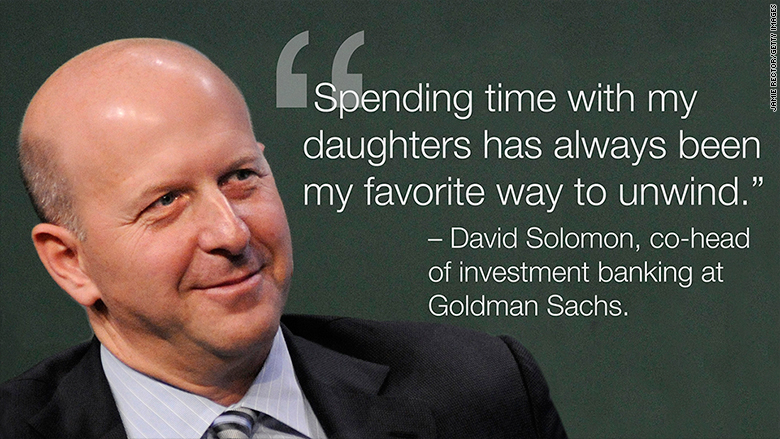 Goldman Sachs is trying to shed its image as the "vampire squid" of Wall Street by playing up its family values.
For the past two weeks, Goldman executives have been telling the world how they unwind after work in posts on the company's Careers blog.
The #1 response: Spending time with kids.
"Spending quality time with my five kids is the best release from my day-to-day pressures," says John Waldron, co-head of Goldman's Investment Banking Division.
Waldron says he reads to his young children bedtime stories because that is "when I find they will actually open up and tell me about their day."
The investment bank has a widely-held reputation for particularly grueling hours. It plays a big role in advising and helping finance big and complex deals where companies merge or take over another company and many of those often come together quickly, requiring many hours of work late into the night.
David Solomon, Goldman's other co-head of investment banking, also stresses how important family time is to him.
Related: Wall Street's exclusive '10 p.m. club'
"Spending time with my daughters has always been my favorite way to unwind," Solomon says, stating that he walked his girls to school when they were young and now does yoga and dinner with one daughter who has graduated school.
So far, eight Goldman executives have answered the question "how do you reset?" on Goldman's Careers blog. Six of the them have mentioned family as "the ultimate reward."
One -- in the Tokyo office -- mentions attending church as a key part of what keeps her going.
"I reset by attending church on Sunday mornings...I'm still growing in my spiritual journey, but every week I discover something new, and that's what keeps me going," says Kathy Matsui, who works in investment research in Japan.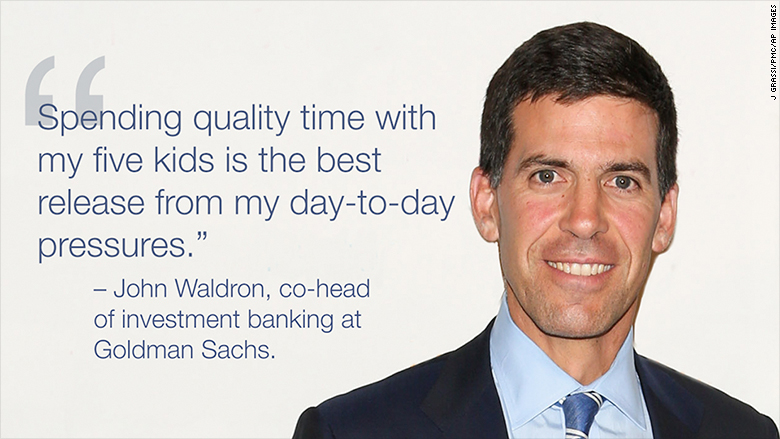 Big businesses give parents more benefits
The Goldman blog post comes at a time when there is a lot of public attention on work-life balance. Millennials say they want more of it.
Republican Congressman Paul Ryan almost didn't take the job as House Speaker because he wanted to make sure he could be a devoted father to his young children.
A key part of the debate is how much time off mothers and fathers receive when they have a baby or adopt a child and whether that time off is paid or unpaid.
Goldman offers fathers (or "non-primary caregivers") four weeks of paid leave, which they take at any time during the baby's first year.
Related: Sheryl Sandberg defends 'Lean In award' for Paul Ryan
Mothers (or "primary caregivers") can take up to 16 weeks of paid leave. The company also offers on-site OB-GYN services and on-site childbirth and labor classes at its New York office.
But Goldman's main competition for talent these days is often from Silicon Valley, where benefits for parents can be even more generous.
New moms and dads at Netflix (NFLX)can take unlimited time off in the first year of their child's birth or adoption. The company expanded its policy in August.
Related: These companies have awesome benefits for parents
At Facebook (FB), employees get a $4,000 bonus as a "new child benefit," and both moms and dads can take up to 16 weeks of paid leave.
"Businesses save money when you have good paid leave," says Victoria Budson, executive director of Harvard's Women and Public Policy Program. "They have lower rates of turnover."