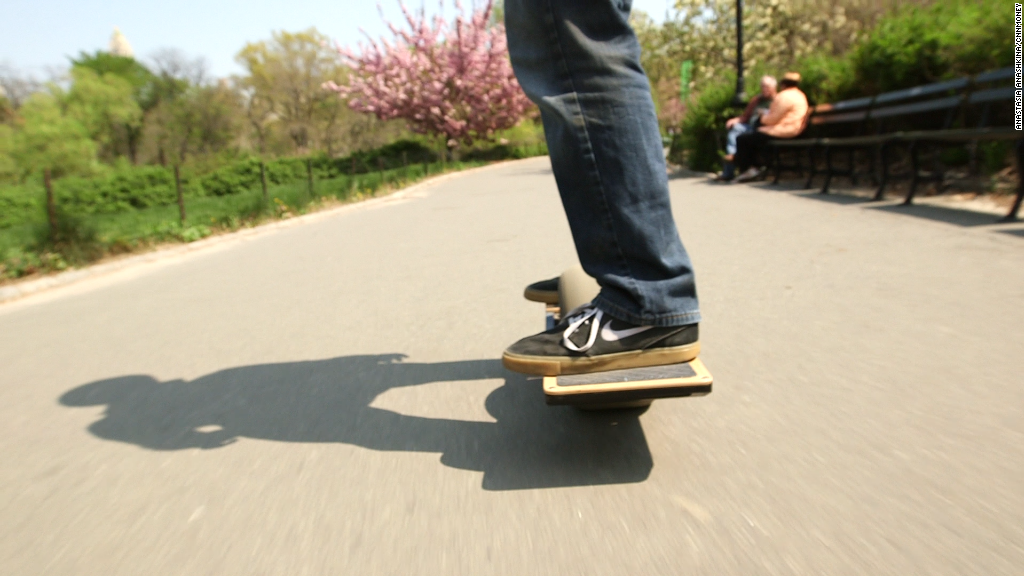 U.S. Marshals were a surprise guest at this year's Consumer Electronics Show.
On Thursday, the Marshals raided the booth of a Chinese company that was selling a knockoff OneWheel, a self-stabilizing electric skateboard with one giant wheel in the middle.
Two federal agents confiscated all the merchandise and signs from Changzhou First International Trade Co., a Chinese company that made a similar, cheaper version called the Trotter. The raid was first reported by Bloomberg News, which said OneWheel had two patents that were being violated.
The authorities were alerted to the copyright infringement by Kyle Doerksen, the founder and CEO of Future Motion, the startup that created OneWheel.
Related: OneWheel -- the electric skateboard that can go 15 miles an hour
Doerksen had filed a temporary restraining order -- roughly 150 pages of documentation -- in Nevada on Wednesday. It was granted on Thursday morning.
Doerksen, who debuted the OneWheel at CES in 2014, said the move was about thwarting competition as well as protecting consumers.
"In general with knockoff products, the goal is to make them cheap," Doerksen told CNNMoney. "To make them cheap, they cut corners, and some of the first things they cut are often around safety and quality control."
He cited recent hoverboard fires that have endangered users. Hoverboards have been under scrutiny after reports of fires, explosions and injuries. Last month, cities, colleges and airlines began banning their use. Public events, including CES, prohibited riding as well.
"That's why it's very important for us as an innovator and intellectual property holder to take action," he added, noting that every single OneWheel is tested by an employee prior to being shipped to a customer.
Related: Numerous fire investigations probed by feds
Doerksen, who's based in Santa Cruz, California, spent five years perfecting the original prototype, and began shipping the product in November 2014. It's not a slim pricetag: The boards, which are manufactured in San Jose, Calif., cost $1,500 each. They're in such high demand that Schottenstein said there's a 4-week wait once an order is placed to actually receive the product. (It had been two months, but production was recently ramped up.)
Future Motion had sent a letter notifying Changzhou First International Trade Co. of its two patents, asking the company to voluntarily withdraw its product from CES. That's according to Shawn Kolitch, a lawyer for Future Motion.
Kolitch said there will be a hearing at a Las Vegas federal court next Thursday. The aim is to eventually convert the temporary restraining order into a permanent injunction that would prevent the Chinese firm from importing, advertising and completing any transaction in the U.S.
Related: Hoverboard lawsuits are expected to pile up
DSCN Capital's David B. Schottenstein, an investor in Future Motion, said he spent several days at CES prior to the raid and said he was shocked at how many companies were blatantly ripping off others' work -- and not just with OneWheel.
"There were literally 70 copycats of DJI's Phantom 3," he said. "And not just the general style -- an exact replica."
Negative publicity is another reason OneWheel decided to take action against the Chinese competitor.
"The minute [the copycat] bursts into flames, all of a sudden the whole OneWheel industry gets a bad rap," Schottenstein said.
Changzhou First International Trade Co. could not be reached for comment.
Aimee Rawlins contributed reporting for this story.