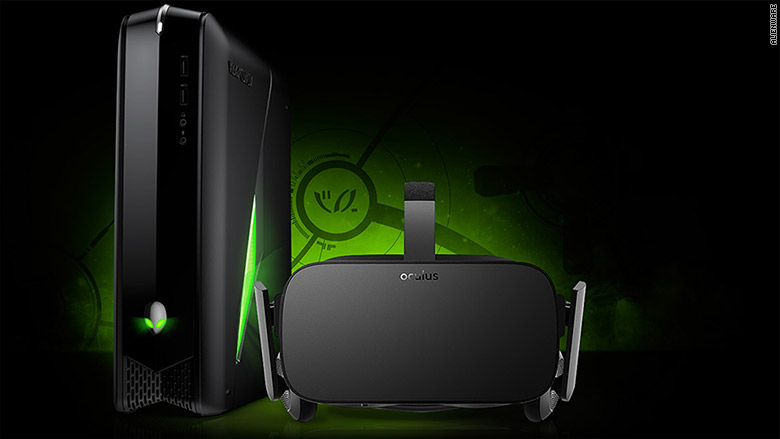 Oculus Rift fans might have a chance to get their virtual reality headsets faster and cheaper than ordering through the Oculus site.
Dell and Alienware (which is owned by Dell) are offering a promotion that takes $200 off an Oculus Rift headset if bought with a powerful PC -- either the Alienware X51 R3 or Dell XPS 8900.
At CES on Thursday, Alienware co-founder Frank Azor first told The Verge that bundled shipments would arrive around the end of March or early April.
In comparison, the current expected ship date on the Oculus website is June -- and it costs $599.
But the Dell and Alienware deals are probably best for people who don't already have a gaming-capable PC.
An Alienware X51 computer that will work with Oculus costs at least $1,199. Altogether, a discount bundle would cost about $1,598.
Oculus says its Rift headset is designed to work best with particular kinds of PCs -- ones that have 8 GB of RAM or more, and with very fast processors and graphics cards.
Alienware and Dell make some of the few PCs that Oculus recommends. Asus is a third option.
In a blog post earlier this week, Alienware co-founder Frank Azor said the company was working to build more VR-ready computers.
"Virtual Reality delivers incredible new possibilities," Azor said. "It's an awesome time to be a gamer."
Oculus was acquired by Facebook (FB) in 2014 as a bet on the future and potential of virtual reality.
Preorders for the VR headset began on Wednesday and demand was so high that the site crashed.
"Wow, people really want Rifts," Luckey tweeted at the time.
Read our complete CES coverage here
Related: Oculus Rift preorders crash site