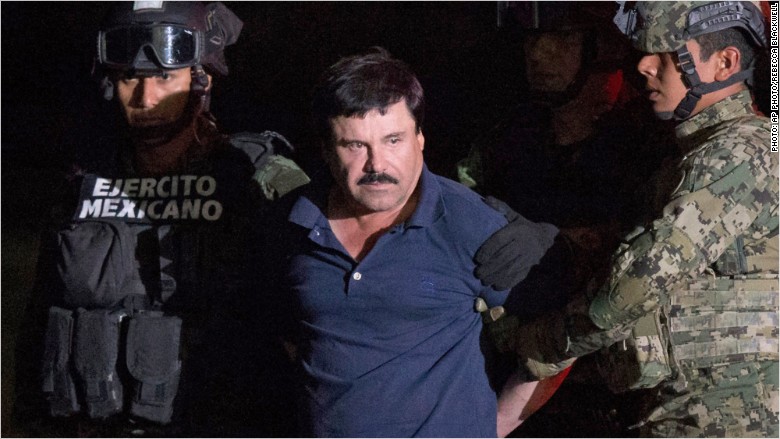 When Rolling Stone published Sean Penn's exclusive interview with Joaquin "El Chapo" Guzman Saturday night, competitors immediately called it a coup -- but also an explosively controversial story.
Penn traveled to Mexico to interview the notorious drug lord with an understanding: El Chapo would get to read and approve Penn's story ahead of time. The resulting story includes a disclosure about the exceedingly unusual arrangement.
"The subject," Rolling Stone says dryly, "did not ask for any changes."
What if the drug lord had? Would the magazine have cut the parts he didn't like?
With a story as shocking and groundbreaking as Penn's -- simply titled "El Chapo Speaks" -- the questions don't stop there.
Did Penn have any legal or ethical obligation to inform Mexican or American authorities about his time with the fugitive he calls "the world's most wanted drug lord?"
Answers are elusive, especially in the immediate hours after Saturday night's publication of the story.
According to Penn, Mexican actress Kate del Castillo brokered the meeting with El Chapo, who broke out of prison last July. (He was recaptured earlier this week.)
Related: Rolling Stone fights libel suit stemming from bogus rape story
Once the drug lord agreed to meet, Penn obtained a letter from Rolling Stone publisher Jann Wenner "officiating" the trip.
Penn spent hours with El Chapo. The two men posed for a photo "so that I could verify to my editors at Rolling Stone that the planned meeting had taken place," Penn wrote.
With Penn, El Chapo spoke unapologetically about his business, saying at one point, "I supply more heroin, methamphetamine, cocaine and marijuana than anybody else in the world."
Penn's story was ready to be published before El Chapo was recaptured; an editor's note about the development was added.
Related: Notorious reporter Stephen Glass repays magazine for 1998 story
Media critics were quick to comment.
"Rolling Stone's big comeback: Get a celebrity to interview a notorious drug trafficker — and give the latter edit approval," tweeted BuzzFeed Canada editor Craig Silverman, formerly of the media ethics blog Regret the Error.
The magazine is still recovering from its discredited "Rape on Campus" article from late 2014, which was later retracted. Multiple lawsuits against the magazine are now pending.
Jeet Heer, a senior editor for The New Republic, drew parallels between that botched investigation and Penn's first-person piece about El Chapo. He wrote, "Rolling Stone sets standard journalist ethics aside to get story that will attract enormous attention. What could go wrong?"
Other journalists came to Penn and Rolling Stone's defense, however.
"Never a fan of Penn's journalism," wrote Vice correspondent Danny Gold, "but me and every other journo would have compromised a whole lot more to get an interview with El Chapo. Anyone else who says otherwise is lying."
Related: Rolling Stone sued by UVA frat members over bogus rape story
A Rolling Stone spokeswoman said no editors were available for interviews about the story. The spokeswoman did not respond to a request for comment about the source approval decisions.
The magazine's disclosure said that "some names have had to be changed, locations not named, and an understanding was brokered with the subject that this piece would be submitted for the subject's approval before publication."
In a series of tweets, MSNBC host Chris Hayes argued that it is "obviously, unambiguously indefensible to give the subject of an interview/article final say over its publication," but that matters of right and wrong take a backseat to business calculations at some publications.
"The piece will generate enormous traffic," he said.
Hayes asked: "How many news orgs, if they had the chance, would've done the same thing? How many would've rejected those terms?"
Some people replied and said most outlets would not have done the same thing; others said most outlets would.