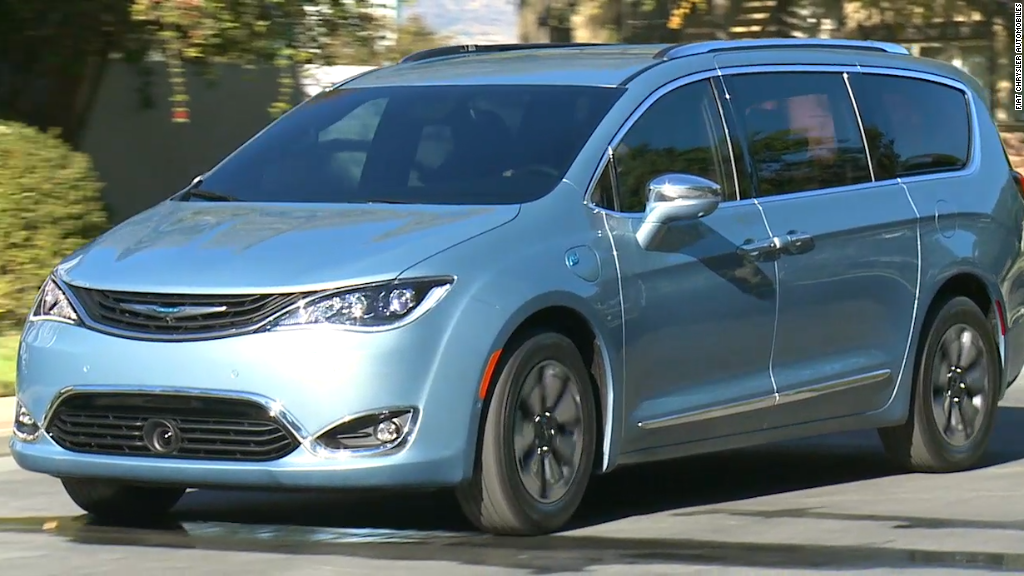 Say goodbye to the Chrysler Town & Country and the Dodge Grand Caravan minivans. Both will soon be history.
Say hello to the new Chrysler Pacifica, the minivan that will replace them both.
The Pacifica, which will go on sale later this year, will have a huge range of features and options.
Among them: a plug-in hybrid version able to go about 30 miles on a charge before the gasoline engine starts up. After that, it will drive like a hybrid, storing up electrical energy when idling and braking -- energy the van then uses during acceleration.
In its materials describing the new plug-in Pacifica, Fiat Chrysler Automobiles (FCAM) assiduously avoids the term "plug-in hybrid." Chrysler executives fear potential buyers might be put off by the perceived complexity of a plug-in vehicle.
Instead, Chrysler refers to it as the Pacifica Hybrid.
Chrysler invented the whole idea of the minivan with the Dodge Caravan in the 1980s. It was the brainchild of then-CEO Lee Iacocca. It was low enough to fit in a garage.
The Caravan and its progeny became the symbol of suburban family life. Ironically it was brought forth by the same man who helped create the Mustang, an enduring symbol of youthful rebellion, when Iacocca was an executive at Ford.
The minivan was sold on the fulfillment of mundane daily needs. It had plenty of room so adults could enter standing up and secure small children in their booster seats. Its emphasis on functionality has made the minivan an object of derision.
The initial popularity of the minivan was soon eclipsed by the rise of SUV, which provided the spice of slight impracticality and the perception of "freedom" over responsibility.
Still, the minivan has always had its adherents. Chrysler's two models, the Chrysler Town & Country and the Dodge Grand Caravan, have attracted popular competitors from the likes of Toyota (TM) and Honda (HMC). Still, the Grand Caravan and Town & Country combined still outsell either the Honda Odyssey or the Toyota Sienna, according to sales data from Kelley Blue Book.
With the Pacifica, Chrysler is fighting back with features like a built-in vacuum cleaner, an idea first seen on the Odyssey. The new van will also have large 10-inch high-definition video screens for backseat passengers and, available later, wireless syncing with smartphone content.
Other options will included a full-length panoramic sunroof and big 20-inch wheels. A self-parking feature, which will help with both back-in and parallel parking, will also be available. The non-hybrid Pacifica will have a 3.6-liter V6 engine and a 9-speed transmission.
The V6-powered Pacifica will go on sale in the spring. The Pacifica Hybrid will be available later in the year.