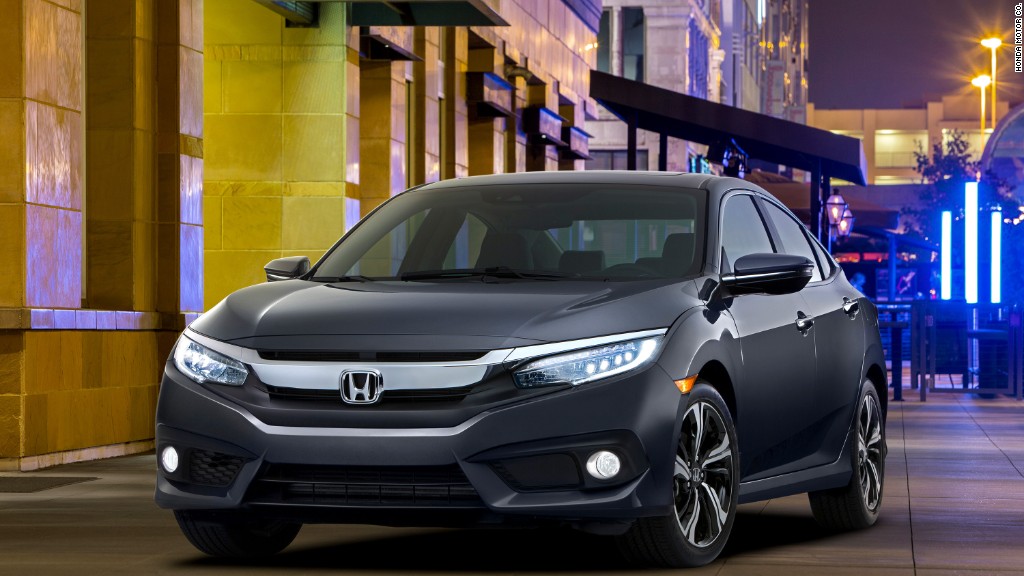 In a big comeback for a beleaguered classic, the Honda Civic has been named the 2016 North American Car of the Year.
The last generation Civic bombed with critics when it debuted in 2011, forcing Honda back to the drawing board. Consumer Reports rated that model too poor to earn its recommendation -- the first time a Civic didn't get the magazine's coveted seal of approval.
A thorough makeover in 2012 was enough to get back in the good graces of Consumer Reports.
Anticipating a redesign, customers stayed away from Civic in 2015. Civic sales fell last year, while rivals including Toyota (TM) Corolla and Hyundai Elantra had banner years.
But now Honda (HMC) is back in the driver's seat with a sporty 2016 redesign. Upper-end models offer new turbocharged engines, a first for Honda in mainstream non-performance cars. Lower-cost versions come standard with a 2.0-liter four-cylinder that puts out 158 horsepower. That's less than the 174 horsepower the turbo engine produces, but it's still more than competitors like the Corolla and Elantra.
Related: Honda unveils crucial redesign for troubled Civic
The Volvo XC90 won the magazine's North American Truck of the Year award. It's a big, three-row crossover SUV powered by a small, 2.0-liter, four-cylinder engine that's supercharged and turbocharged. The little engine produces a surprising 316 horsepower.
It's part of a new product engineering strategy at Volvo in which a single engine size, tuned to produce varying amounts of power, will be used to drive a wide variety of vehicles.
The XC90 was also the first all-new vehicle produced under Volvo's Chinese ownership. Zhejiang Geely Holding Group purchased Volvo from Ford (F) in 2009. The XC90 was designed and engineered entirely in Volvo's home nation of Sweden, however, and plans for the new engineering strategy were underway before Geely's takeover, Volvo executives have said.
The North American Car and Truck Awards are decided by a group of automotive journalists. In November, the Chevy Camaro was named Car of the Year in the separate Motor Trend awards, while the company's Colorado model picked up Motor Trend's Truck of the Year honors.