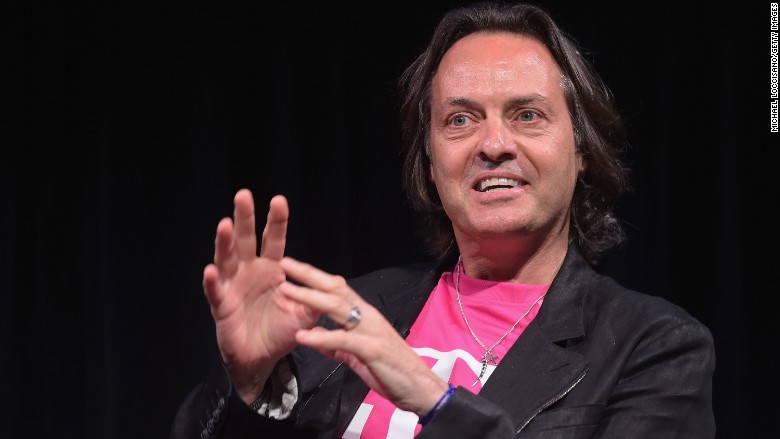 T-Mobile's brash CEO John Legere is taking a break from dropping F-bombs to drop an apology.
In a blog posted Monday afternoon, Legere said he was sorry for insulting the Electronic Frontier Foundation last week.
The spat began last Thursday during a question and answer session on Twitter about T-Mobile's new Binge On feature. T-Mobile (TMUS) says Binge On allows customers to stream videos from select partners without the data coming out of their monthly plans.
Critics say T-Mobile actually throttles, or slows, video content. Treating one kind of content differently than others is a violation of net neutrality principals.
The EFF asked Legere about the issue on Twitter. After partially answering the question in a video, Legere said, "Who the f— are you anyway EFF? Why are you stirring up so much trouble, and who pays you?"
EFF supporters quickly flooded social media in defense of the 25-year-old non-profit organization. One Binge On partner, Slidefuse, dropped out of the program.
"By now you know that I am a vocal, animated and sometimes foul mouthed CEO.  I don't filter myself and you know that no one at T-Mobile filters me either (no, they don't even try)," said Legere in the post.
Related: T-Mobile CEO to critics: 'Who the f--- are you anyway?'
"I will however apologize for offending EFF and its supporters. Just because we don't completely agree on all aspects of Binge On doesn't mean I don't see how they fight for consumers."
Legere said T-Mobile plans on sitting down with the EFF to discuss the row. For now, he'd prefer people go back to focusing on Binge On.
Related: T-Mobile hikes price of unlimited plans by $15
"We are grateful for the apology and appreciate Mr. Legere recognizing our work in fighting for the consumers. We too hope to have a discussion with T-Mobile regarding net neutrality and Binge On," said an EFF spokesperson.
The majority of his blog post focused on defending the program, which was turned on automatically for all T-Mobile customers. One key reason T-Mobile believes it doesn't violate net neutrality is because customers can all turn off the feature at any time.