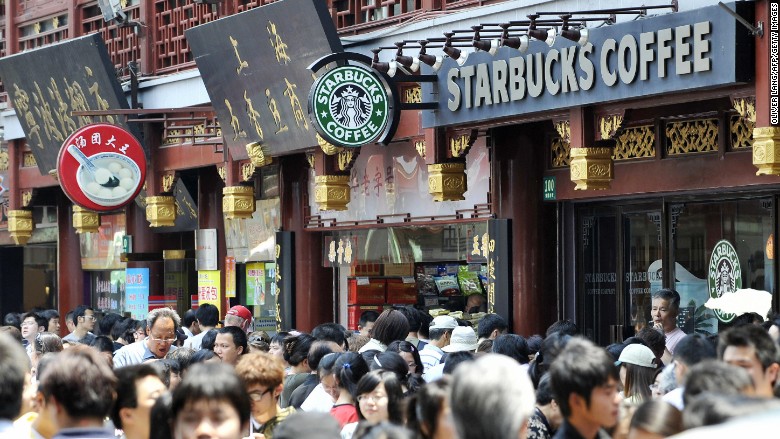 Make that a venti! Starbucks is going big in China, with plans to roll out hundreds of new shops in the next few years.
Starbucks aims to open 500 stores this year as part of a broader plan to operate at least 3,400 coffee shops in China by 2019. That's an ambitious 70% expansion from the 2,000 stores it has now in 100 Chinese cities, the company said in a statement.
"As Starbucks' second largest and fastest-growing market globally, China represents the most important and exciting opportunity ahead of us," said CEO Howard Schultz.
It's an ambitious move, as China's economic growth is starting to slow. Still, plenty of food brands -- from McDonald's (MCD) to KFC -- have long clamored to tap into China's ever-increasing middle class. But many firms have faltered -- picking the wrong name or getting caught up in food safety scandals.
By comparison, Starbucks (SBUX) has done much better -- it chose a catchy name (which means "Starry Hope") that sounds much like its English moniker, and adjusted its menu options to cater to local tastes.
Related: The crazy flavor experiments behind Chinese fast food
Starbucks in China has all the typical cafe items like lattes and scones. But it also offers a slew of food and beverage choices with a Chinese twist: think red bean-green tea frappuccinos, sausage buns and mooncakes -- traditional sweets eaten during an annual autumn holiday.
The Seattle-based coffee chain has long courted China -- a tea-drinking nation -- since opening its first mainland store in Beijing in 1999. Last year, Schultz even met with President Xi Jinping on his first state visit to the U.S.
But the road hasn't always been smooth. In 2013, state-controlled media outlets accused Starbucks of squeezing higher margins out of its operation in China than in other markets.
Related: 8 of the world's craziest fast food items
CCTV, for example, reported then that a tall latte cost 27 yuan or $4.40 in Beijing, while the same drink cost about a dollar less in Chicago. The report also said a Starbucks coffee mug -- which is made in China -- sells for between $10 and $14 in the U.S., and as much as $18 in China.
For many Chinese, drinking Starbucks is sometimes considered a status symbol -- in China, many consumers can have dinner for a few bucks, or what one cup of coffee costs.
On Tuesday, Starbucks also announced that all full-time baristas and store supervisors in China will receive a stipend to cover roughly half of their housing costs.
Shares rose more than 2% Tuesday morning.