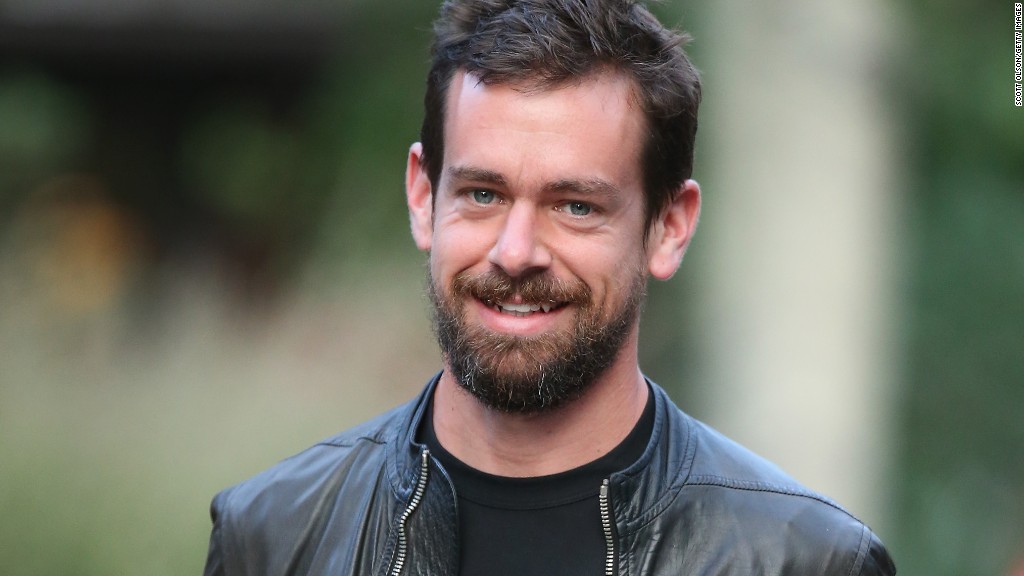 Twitter may be a 21st century media company. But it has a 20th century stock price.
Shares of Twitter (TWTR) hit a new all-time low Monday below $20 a share -- $19.26. The stock was down on Tuesday as well.
Twitter is down more than 15% already this year and has plunged 30% since co-founder Jack Dorsey was officially named the permanent CEO in October.
Dorsey has certainly been busy. He has made several moves in the past few months to try and make Twitter more enticing to new users. But investors remain skeptical.
Twitter launched Moments -- a feature that shows a curated mix of tweets and Vines about big news events -- shortly after Dorsey took over. Twitter also dumped its favorites and stars for likes and hearts.
Twitter is also experimenting with new ways to show tweets in users' timelines. It is testing a format that puts the most relevant tweets at the top as opposed to listing them in reverse chronological order.
The company is even rumored to be considering blowing up one of its sacred cows -- it may expand the longstanding 140 character limit for tweets to 10,000.
Related: Will Twitter dump its 140 character limit?
The latest big change? Twitter said Tuesday that Periscope -- the live video streaming app it bought last year -- will start to autoplay videos directly in Twitter feeds ... instead of forcing people to click on a link that took them out of the Twitter app.
Still, investors aren't convinced that these changes will work. According to estimates from FactSet Research, Wall Street analysts are predicting that Twitter ended the fourth quarter with 325 million monthly active users -- just 1.6% growth from the third quarter.
To put that number in perspective, analysts are forecasting that the monthly active user count at Twitter's much larger rival Facebook (FB) rose 2.4% in the fourth quarter to 1.58 billion.
So can Twitter turn things around?
In some respects, the overwhelming negativity seems a bit overdone. Twitter, after all, is still expected to report revenue growth of nearly 50% in the fourth quarter and sales growth of more than 40% for 2016. That's impressive.
Twitter also has a very loyal fan base -- and some impressive financial backers.
Saudi Prince Alwaleed Bin Talal increased his stake in Twitter to 5% late last year and is now the firm's second-largest shareholder, trailing only Twitter co-founder Evan Williams. (Dorsey is the sixth-largest shareholder, with a 3.2% stake.)
Former Microsoft (MSFT) CEO Steve Ballmer bought a 4% stake in Twitter as well in 2015 -- news that he shared on his verified Twitter account as opposed to an SEC filing or press release.
But unless Twitter can prove to Wall Street that it is able to start attracting a lot more users -- and even more advertising dollars -- then it may be tough for the stock to move much higher anytime soon.
Related: Twitter is too cool for school. It must go mainstream
That could mean there will be more pressure on Dorsey to commit to running Twitter full-time ... or give up the job so he can focus solely on his other firm, mobile payments company Square (SQ).
Square went public last November. Dorsey is the founder and CEO.
For now, the fact that Dorsey wears two hats does not appear to be an issue.
Suhail Rizvi, an investor in both Twitter and Square, told the Wall Street Journal last month that Dorsey "excels" at product development and attracting talent. So he was not worried.
But other shareholders may not feel the same way if the stock price continues to remain below $20 for an extended stretch.
It's possible that an activist investor could eventually purchase a stake with the hopes of shaking things up.
There are occasional rumors that Carl Icahn has interest in Twitter, for example. But that chatter may be wishful thinking, a result of the fact that Icahn is a semi-frequent tweeter.
There may also be renewed calls for Twitter to sell itself.
Related: Square IPO pops, but only after it lowered price
Rumors were rampant about a Twitter sale just after former CEO Dick Costolo stepped down and before Dorsey was given the CEO job permanently.
Google (GOOGL) is often mentioned as the most likely acquirer.
The two companies already have a partnership -- tweets show up in Google search results -- and new Twitter executive chairman Omid Kordestani was previously the chief business officer at Google.
Twitter had no comment, citing quiet period rules as it prepares to report its fourth-quarter earnings on February 10.
But the company clearly needs to do something to get its stock price trending upward again. #ASAP