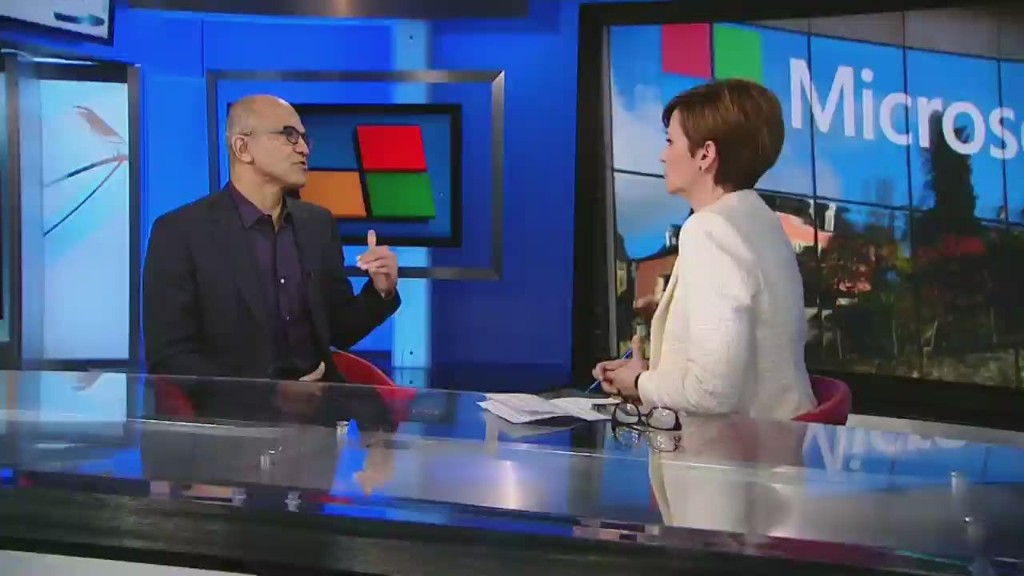 Microsoft CEO Satya Nadella will be Michelle Obama's guest at Tuesday's State of the Union address.
President Obama will use his final State of the Union to advocate for long-term plans that extend well beyond his presidency, according to the White House.
One topic that Obama plans to discuss is ramping up STEM and computer science education, in an effort to place more Americans in high-paying technology jobs.
Microsoft (MSFT) has long pushed for more investment in technology education. Last year, Nadella announced that the company would spend $75 million on a new initiative to make computer science education more mainstream in American schools. Microsoft also supports Teach.org, which helps people who want to become teachers.
Obama also plans on pushing for more parental leave, which Nadella also supports. Microsoft in August expanded its leave policy so that new mothers in the United States can take up to 20 weeks paid leave, and non-birth parents can take up to 12 weeks paid time off. That's eight more weeks paid leave for both parents than the company previously offered.
Related: White House releases full list of State of the Union guests
The first lady's guests all personify different policies and agendas that the president plans on presenting during the State of the Union.
"Their stories -- of struggle and success -- highlight where we have been and where America is going in the future, building on the best of what our country has to offer," the White House said in a statement. "The guests personify President Obama's time in office and most importantly, they represent who we are as Americans: inclusive and compassionate, innovative and courageous."
Other guests include homeless veterans advocate Cynthia Dias, opioid reform advocate Cary Dixon, Syrian refugee Refaai Hamo, Connecticut Gov. Dannel Malloy and Spencer Stone, the hero who thwarted a terror attack on a Paris-bound train.