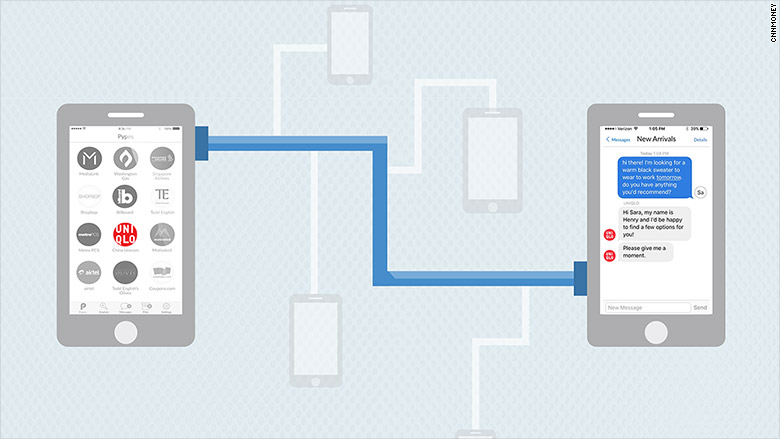 I cringe when an automated telephone system answers my call.
Why do we still have to pick up the phone to call airlines, cable companies or banks? Soon, we won't have to, if entrepreneur Richard Smullen has anything to say about it.
Smullen, 36, heads up Pypestream, a stand-alone messaging app that creates a direct, secure line of communication between businesses and their customers.
"Most people can't stand robotic voices. They want to go immediately to a representative. Yet with messaging, they won't know it's a robot," said Smullen.
Texting enables call centers to respond to many consumers at once, making them much more efficient. Pypestream will use artificial intelligence and machine learning so that businesses can automate more of their customer service, and make it feel personal.
In Pypestream's app, consumers can switch on "pypes" for businesses they want to connect with. Pypes let businesses ping customers with promotional types of messages, and consumers can respond directly. People can also send their own texts at any time, like "What's on sale?" and "Why did you charge me $5 extra this month?"
Related: Facebook and Uber launch a new partnership
The startup, which launched in beta in December, has already signed up over 500 businesses, including South African Airways, Billboard, Washington Gas (WGLCO), and MetroPCS. Businesses can sign up for free but are charged based on how many users interaction with them.
Roughly 6,000 businesses in 40 countries are on its waitlist -- Pypestream is adding roughly 400 a day.
Right now, humans handle the correspondence with customers.
But that will change in March, when Pypestream will start relying on its proprietary machine learning and AI technology to respond to people. Anything the tech can't answer will go to humans. Smullen says Pypestream's process could save businesses up to 75% of call center costs.
Related: WeChat users are the unlikely donors to Silicon Valley nonprofit Watsi
Smullen has closed $4 million since founding the company in April 2015. He said he plans to raise "significant" capital soon to support demand for Pypestream.
As people flock to messaging apps, it's necessary for businesses to have similar ways to communicate with their customers. According to consulting firm Activate, 2.5 billion people around the world use messaging apps today -- and that's expected to top 3.6 billion by 2018.
Randy Russell, managing director at Deutsche Bank, said Pypestream has a huge value to businesses.
"Fewer call center reps and faster resolutions at lower costs," he said. "Can I put you on hold for a minute while I research that?' all goes away."
According to Waller Capital Partners' Roderick Moon, customer service is increasingly important for businesses trying to stay competitive.
"Messaging is really the communication platform of choice for consumers," said Moon, whose firm focuses on media and tech.
Related: Magicians at your service -- for $100 an hour
KPCB partner Mary Meeker predicted that messaging apps will become more like communication hubs. China's WeChat is leading this trend: Its platform is used for everything from texting to playing games to making purchases.
In the U.S., the space is just starting to heat up -- and Pypestream isn't the only startup making a play to improve customer service. Msg.ai, which is still in stealth mode, has already partnered with companies like Sony Pictures, BMW and Universal McCann. It also uses artificial intelligence to respond to customer queries, but it isn't a standalone app. Businesses can integrate it with existing chat platforms like Facebook (FB) Messenger and Twitter (TWTR)direct messages.
Smullen says one thing is clear: Messaging will change the game for businesses.
"Are we the guys to do it?" said Smullen. "We hope so."