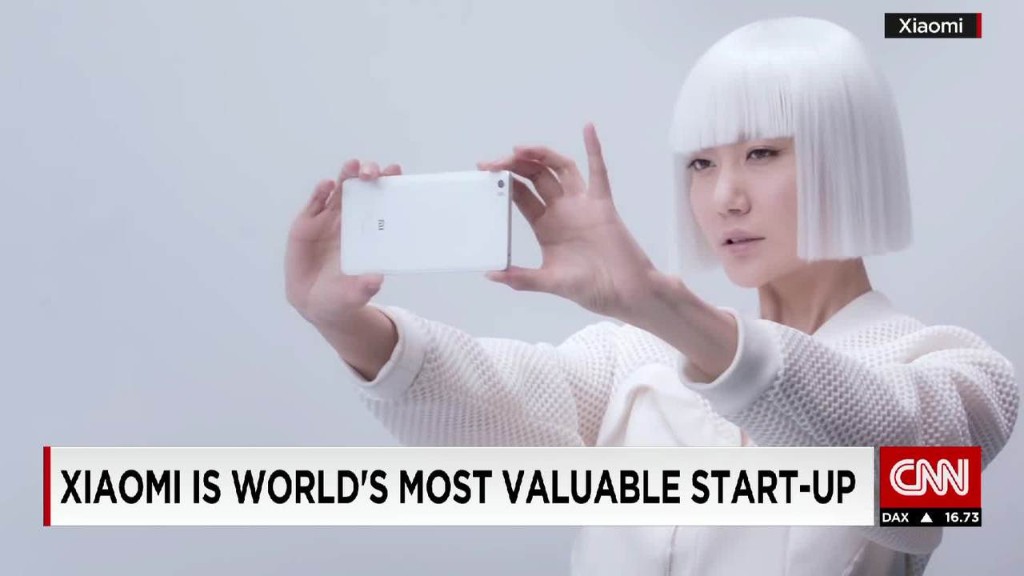 The world's second largest startup may be facing a huge Catch-22 problem in its plan to keep growing.
Chinese gadget maker Xiaomi sells everything from smartphones and wearables, to cameras, TVs and air purifiers -- on the cheap. You can buy a fitness band for $15, and a five-inch smartphone for $200.
The crux of Xiaomi's strategy has been to flood the market with budget devices. Then, after a huge customer base emerges, Xiaomi would thread all of its products together into an "ecosystem" similar to what Apple (AAPL) and Google (GOOGL) have with iOS and Android. Once that's in place, Xiaomi can then sell software add-ons and apps to the masses. That's how the company makes most of its profits today.
But estimated sales figures for 2015 aren't looking good, according to Edison Investment Research, and that could lead to a chain of consequences.
Analyst Richard Windsor believes that Xiaomi may have sold as few as 72 million devices in 2015 -- much lower than the bottom end of the company's own 80 million to 100 million forecast.
Assuming the estimate is correct, Windsor believes that Xiaomi's sales growth could have been less than 10% in 2015. (For comparison, Xiaomi grew by 211% in a three-month period back in 2014.)
"While this is not necessarily a problem for the company per se, it is a huge problem for the valuation...and Xiaomi's ability to raise capital," Windsor wrote.
Uncertain outside investment on top of already slowing sales could be crippling.
Xiaomi needs money to develop new services for its hardware so that people will spend more time with their devices. When customers spend more time with their devices, they're apt to buy more of the stuff that generates profits.
Meanwhile, its biggest competitors have deep pockets and the ability to invest heavily in their platforms, Windsor noted.
A Xiaomi spokesman did not immediately respond to a request for comment.
Related: Microsoft and Xiaomi agree to partner on cloud services
Xiaomi is currently valued at $46 billion, according to CB Insights, about the same as Sony's market cap. (At $51 billion, Uber is the only startup with a higher valuation.)
But Edison Investment Research analysts disagree strongly with this valuation. They believe Xiaomi is worth only $5.9 billion -- less than 15% of the popularly cited figure.
Why the huge discrepancy? Because Xiaomi is often referred to as the "Apple of China" and this comparison is wrong, according to Windsor.
"With growth now stagnant, it is now impossible to justify a premium to Apple," he says. "A very tough year beckons."
Related: Why people call Xiaomi the Apple of China
Xiaomi was founded less than five years ago. In that time, the startup has risen to become one of the top two smartphone manufacturers in China, dethroning Apple and Samsung. But its success outside of the country has been limited.
In 2013, the company began to aggressively expand abroad after it hired Hugo Barra away from Google. Barra, a former product head for Android, is now vice president of Xiaomi's global operations.
Xiaomi made headlines in 2015 when it set a Guinness World Record for the most mobile phones sold in a day, and it opened its first online store in the United States.