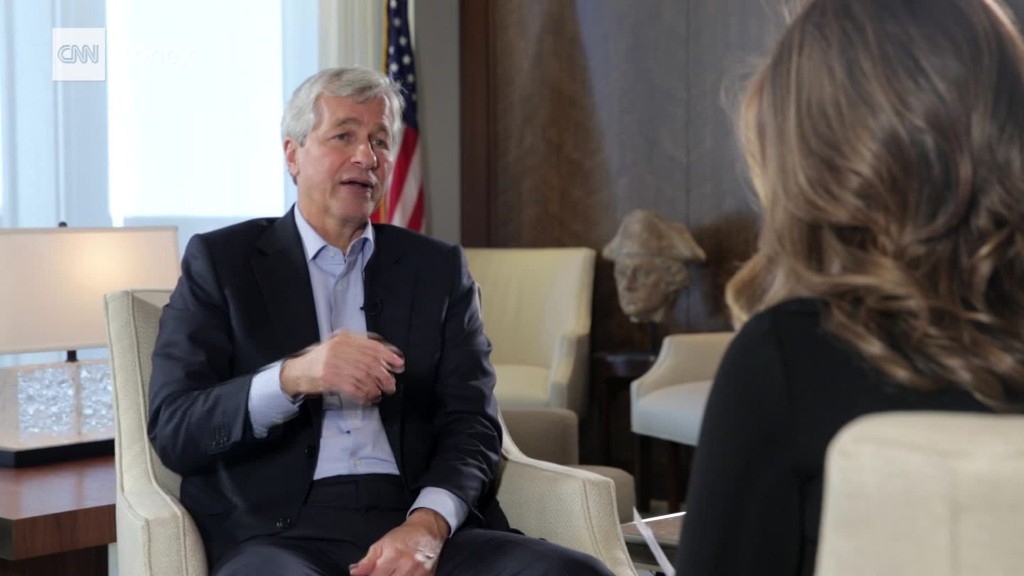 Finally some good news for the market: Banking powerhouse JPMorgan Chase reported revenue and earnings for the fourth quarter that topped Wall Street's expectations.
The bank posted a quarterly profit of $5.4 billion -- 3.6 times the Powerball jackpot! Earnings were up 10% from a year ago. Shares were up 2% in mid-morning trading Thursday.
Still, revenue was up just 1% from the fourth quarter of 2014. Lower costs, particularly a decline in legal expenses, was the main reason that earnings rose as much as they did.
And investors remain nervous about how JPMorgan Chase and other big banks will do this year.
JPMorgan Chase (JPM) chairman and CEO Jamie Dimon said in a statement that the company's trading and asset management revenues benefited from the fact that "markets were somewhat quieter" in the fourth quarter.
The market has been anything but that so far in 2016.
It's been a brutal start to the year for stocks due to concerns about China's economy slowing down and the continued collapse in oil prices. But banks have really taken it on the chin.
Related: Dimon makes his case for keeping big banks big
The Financial Select Sector SPDR (XLF), an ETF that holds most of the major banks, has plunged 9% already in 2016.
And shares of JPMorgan Chase are down 12% since the start of January. (The only Dow stock that's done worse is DuPont (DD).)
During a conference call with reporters Thursday morning, CFO Marianne Lake said it is "difficult and premature" to make any judgments about the year just yet. But she conceded that it has been a "challenging" start.
The market volatility is reminding some investors of 2008. That, in case you forgot, was a terrible year for banks.
Many experts think there is little risk of another major financial crisis. Banks are in much better financial shape than they were seven years ago. Exposure to China and commodities do not pose the same threats that subprime mortgages did.
Tougher regulations around the world have also forced banks to clean up their balance sheets.
Dimon stressed in the press release that the bank "is getting safer and stronger each year" and that it is "continuing to adjust our strategy to the new world and to meeting all requirements."
He noted during the conference call that he remains optimistic about the long-term outlook for China -- despite the short-term volatility.
"They are making a transition to a consumer-driven economy. They obviously have issues," DImon said, adding that he believes China's economy should still be able to grow 5% to 6% for the long-term.
That said, Dimon did admit that loans to oil companies was one trouble spot. Even though overall loan growth was strong and credit quality improved, Dimon cited "some stress in energy."
The big banks could also be hurt this year if the stock market remains this rocky. Their trading and investment banking businesses would likely suffer.
Related: Fed ends 'too big to fail' lending to collapsing banks
What's more, continued tumult in the financial markets could cause the Federal Reserve to hold back on raising interest rates any further.
The Fed finally raised rates last December -- the first rate hike since June 2006. Many bank investors have been rooting for rates to go up even more since higher rates tend to lift profit margins as banks can collect more interest from loans.
But Dimon said on the conference call that he was not spending too much time worrying about the Fed. The market is currently expecting only two rate hikes while some Fed members have indicated four rate increases.
Dimon said that what the Fed does will ultimately depend on economic data and that "whatever it is, we'll deal with it."
JPMorgan Chase is the first of the big banks to report earnings. Citigroup (C) and Wells Fargo (WFC) are on tap to release their latest results on Friday.
Goldman Sachs (GS), Bank of America (BAC) and Morgan Stanley (MS) all report next week.