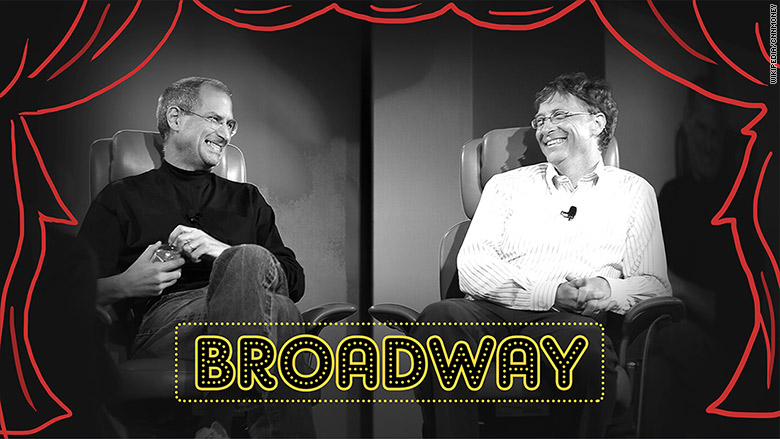 Apple and Microsoft fans will have a new way to sing their praises soon: A musical about Steve Jobs and Bill Gates will debut on Broadway in April.
"Nerds, A Musical Dot-Comedy" recounts the story of the two men's professional careers. The plot will follow the competition that brewed between them as they tried to dominate the computing industry.
Given that "Nerds" is a musical about technology, the producers are also making an effort to incorporate technology into the show.
There will be holograms and other digital projections, as well as an app that allow audience members to intereact with the play.
"Nerds" will open at the Longacre Theatre in New York on April 21 following previews.
Related: Aaron Sorkin says Steve Jobs would have liked his film
The show was written in part by Jordan Allen-Dutton, who is best known for writing "Robot Chicken." Whether or not Apple (AAPL) or Microsoft (MSFT) participated in the production process is unclear. Neither companies immediately responded to requests for comment.
The Philadelphia Theatre Company first produced a version of the musical.
In the YouTube promotion from 2013, you can hear a few lines of a song that goes something like "Think different. Don't wait another moment."