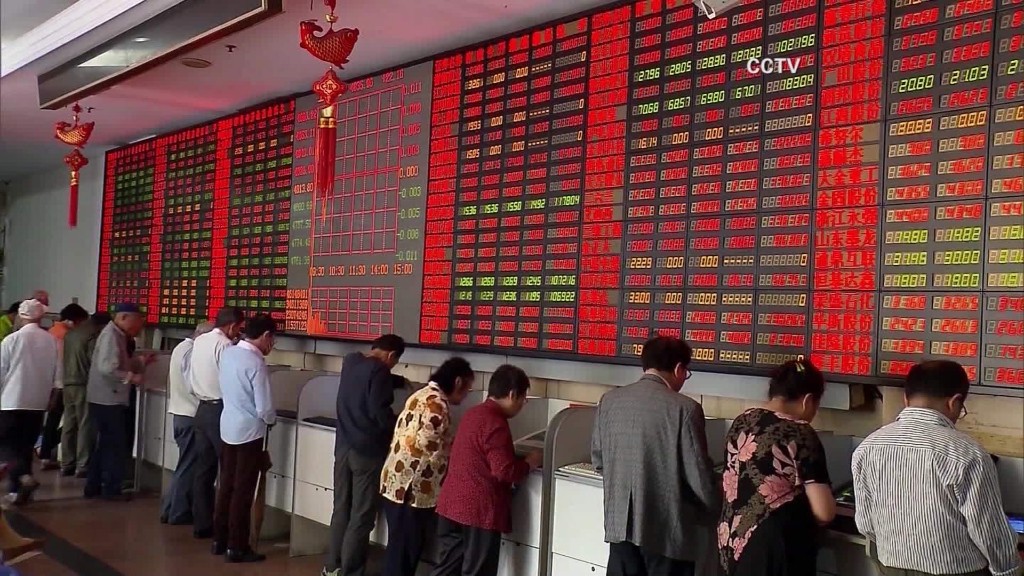 Do you know many 22-year-old college students who check stock futures before social media?
In China, it happens more than you'd think.
"When I got into the market, everybody made money," said Annie An, who is one of those 22-year-old college students. "People thought even fools could make a profit."
And An is no fool. She's a hardworking college student in Beijing who's paying her own tuition. She worked part-time jobs for years and invested her savings in the stock market in June 2015.
She hoped it'd turn a profit. But then the bottom fell out.
The Chinese stock market started to crash right after she decided to jump in. Trillions of dollars of wealth were wiped out in a matter of weeks.
For An, that meant nearly half of her original investment of 20,000 yuan (roughly $3,200) was gone. For a Chinese student with tuition to pay, $1,600 is a lot of cash.
"I was very sad," she said. "June was so rough. I needed that money."
So she cut her losses, got out of the market and swore she'd never go back.
Related: Is this another 2008 for the stock market?
"Everyone I knew was deleting their market software off their phones," An said. "No one wanted anything to do with it."
An was like millions of ordinary Chinese who opened up trading accounts in the first half of 2015, encouraged by buoyant stock prices and influential state media proclaiming that the bull market was just beginning.
People with very little knowledge of stocks and the risks of investing poured in their savings. When the market tanked, it took most of their money with it.
The Chinese government waded in to try and stabilize the markets, pumping billions of dollars into the system to provide more liquidity. Initial public offerings were suspended and major shareholders were prohibited from selling their stakes in listed companies.
Markets stabilized for a while.
Related: China has no easy answers to currency turmoil
Despite her earlier vow, An reinvested some of her money toward the end of the year in the hope of recouping some of her losses.
Yet again, she was made to rue her decision. On the first trading day of this year, Chinese stocks plummeted once more.
The drop triggered newly introduced circuit breakers that automatically halted trading for the day once losses reached 7%. The new measures were supposed to have a calming effect. Instead, they only added to the panic, and authorities got rid of them after only four days.
After two weeks of 2016 trading, Chinese stocks are in a bear market and An's already down around $500.
"My friends tell me that the market will increase in July," she said optimistically. "My money might double. So I will wait."