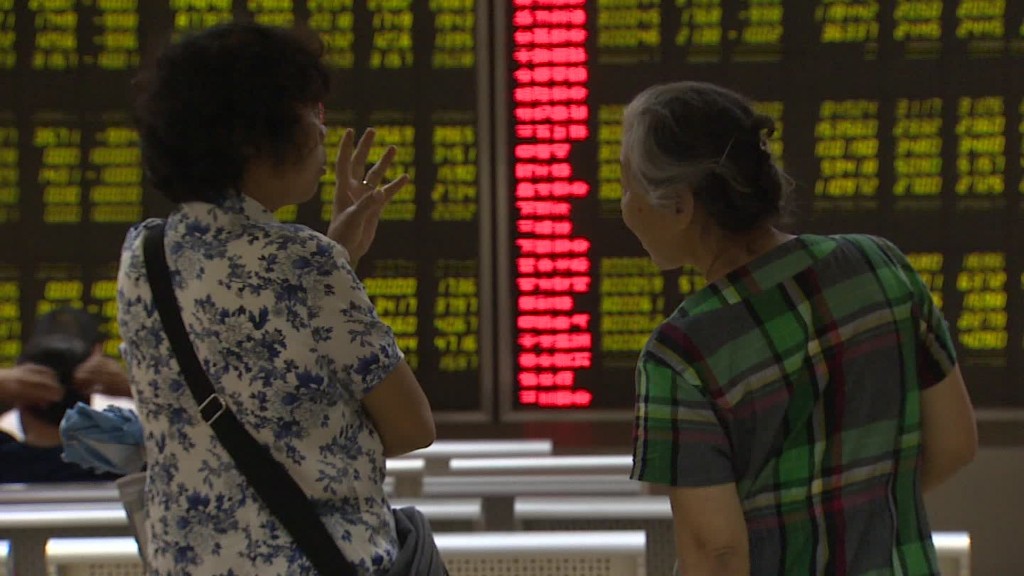 Chinese stocks have fallen into bear market territory.
The Shanghai Composite ended the week the way it started, dropping as worries persisted about China's cooling economy and sinking currency.
It closed down 3.6% Friday, more than 20% below its recent high in December, the threshold for a bear market.
Other Asian indexes also slipped, despite Thursday's gains in U.S. markets.
Japan's Nikkei lost 0.5%, and the Hang Seng in Hong Kong shed 1.5%.
The price of oil, which has unsettled stock markets in recent weeks, also slumped again on Friday.
Like many others around the globe, Chinese shares have had a rough start to 2016, plunging deeper and deeper into negative territory. The Shanghai Composite is down 18% so far this year.
Recent drops in the Chinese currency, the yuan, against the dollar have helped spur the volatile trading.
Investors are struggling to predict how far and how fast Chinese authorities are willing to let the yuan fall. They are also concerned about increasing capital outflows from the world's second-largest economy as China delves into its huge stash of foreign currency to try to tame the yuan's movements.
Chinese stocks already suffered a spectacular crash over the summer, wiping out trillions of dollars in value and hurting the millions of individual investors who had plowed their savings into the market.
Analysts have warned of the likelihood of more volatility in the coming months.
China's economy, an important driver of global growth, is slowing from the rapid expansion of recent decades as officials try to wean it off a reliance on exports and debt-fueled investment in favor of consumer-led demand.
The slowdown is hammering commodity markets that had long relied on ravenous Chinese demand for raw materials.