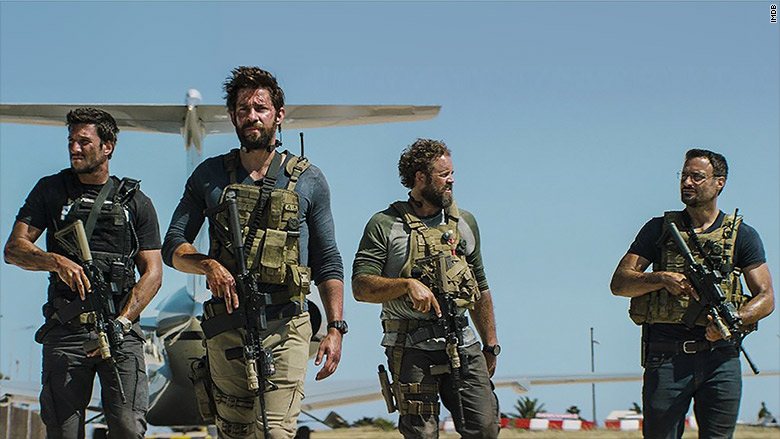 "13 Hours: The Secret Soldiers of Benghazi" opens nationwide this weekend, and it's getting word of mouth publicity from unlikely sources: GOP presidential candidates.
"Tomorrow morning a new movie will debut about the incredible bravery of the men fighting for their lives in Benghazi and the politicians that abandoned them," GOP presidential candidate Ted Cruz said during his closing remarks of the Fox Business GOP debate on Thursday night.
If that wasn't enough buzz, GOP frontrunner Donald Trump rented out an Iowa theater and provided tickets to a free screening of the film.
The movie depicts the 2012 terror attack that took place on the American embassy in Benghazi, Libya, that killed four Americans, including the U.S. ambassador.
The Paramount film opens on the same weekend that another war movie, "American Sniper," did last year. "Sniper" made $89.3 million for its opening weekend in 2015.
Box office analysts forecast that "13 Hours," which has a budget of $50 million and is opening in 2,400 theaters, should bring in an opening weekend of $20 million to $25 million.
With the buzz, however, it could follow in the footsteps of other war films like "Zero Dark Thirty" and "Lone Survivor" that caught on with audiences in January.
Related: '13 Hours' Benghazi movie gets rave reviews from conservatives
"January has become the go-to month for war dramas," said Paul Dergarabedian, senior media analyst at Rentrak (RENT). "You're not competing with a lot of new blockbusters or big movies in January, and if this one does well it's another example of a war film succeeding in the winter month."
The timing of the film's release has become entangled in presidential politics. Republicans hope it will reflect badly on Hillary Clinton who was Secretary of State at the time of the attack.
The film has another draw: director Michael Bay. His films, like "Transformers" and "Armageddon," have brought in $5.7 billion at the worldwide box office.
"If you look at the marketing for '13 Hours,' Michael Bay is, in a way, the true star of the movie," Dergarabedian said. "He has total action film credibility as a director and historically a massive box office track record with audiences."
Sign up for the Reliable Sources newsletter
The film will have stiff competition from Universal's "Ride Along 2," the sequel to the successful Kevin Hart, Ice Cube comedy that made $154.4 million worldwide in 2014.
And let's not forget that Disney's "Star Wars: The Force Awakens" is still flying in theaters. The film heads into its fifth weekend of release with a global box office total of nearly $1.8 billion.