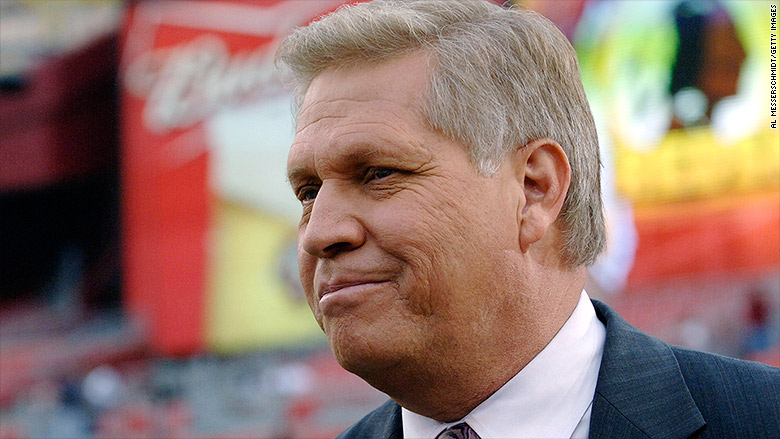 Chris Mortensen, one of ESPN's best-sourced reporters covering the NFL, revealed on Friday that he has been diagnosed with throat cancer, and will be "temporarily stepping away" from his broadcast duties.
Mortsensen, 64, said that he learned more than a week ago that he has stage 4 cancer.
"My focus shifted significantly to gathering information about the specifics of this cancer," he said in a statement. "The initial diagnosis was confirmed Friday and there is another test remaining that will determine the best possible treatment plan that will commence in the very immediate future."
There was an outpouring of sympathy for Mortensen from colleagues on Twitter. His nickname, "Mort," became a trending topic shortly after the announcement was made.
Mortensen joined ESPN in 1991, and has been a fixture in the channel's NFL coverage ever since. Along with his colleague, fellow "ESPN NFL Insider" Adam Schefter, Mortensen has earned a reputation as one of the most well-connected reporters covering the league.
ESPN anchor Suzy Kolber announced Mortensen's diagnosis on-air Friday afternoon.
"And, Mort, we all want you to know: your fight is our fight," she said.
ESPN President John Skipper called Mortensen "an extremely respected colleague, who has the complete support of his entire ESPN family."
Sign up for the Reliable Sources newsletter
Mortensen will go off the air a little more than three weeks before the Super Bowl.
In his statement on Friday, Mortensen sounded a note of determination.
"I have many inspirational examples of men, women and children who have faced this very fight. We all know somebody, right?" he said. "I also have the love and prayers of my wife Micki, my family, my friends, colleagues and, most of all, my faith that serve as sources of tremendous strength. I have a peace about this and look forward to the battle."