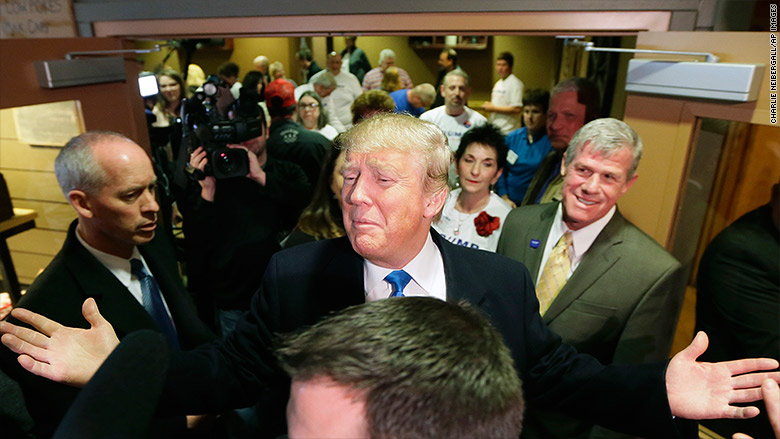 A New York Times political reporter got the boot at a Donald Trump campaign event on Friday.
The reporter, Trip Gabriel, said he was told by a police officer that the gathering at a Pizza Ranch in Waukee, Iowa, was a "private event."
But in a blog post on the Times website, Gabriel said that "about 20 other television and digital reporters continued to cover the event."
The episode is the latest in Trump's volatile relationship with the press. His campaign has been criticized for threatening to "blacklist" reporters who stray from the designated media "pens" at rallies, while Trump has repeatedly disparaged journalists he deems unfair, and called them "scum" at his rallies.
Related: Donald Trump versus Hillary Clinton would be an 'amazing thing,' says Trump
Gabriel said in his blog post that he had been given a press pass for a Trump event earlier on Friday near Urbandale, Iowa. It is not clear why he was denied access to the event in Waukee. A Trump spokeswoman did not respond to a request for comment.
Gabriel noted that the Times ran an article on Wednesday on Trump's "amateurish" ground operation in Iowa.
Related: Fox Business debate ratings: Low in the Trump era, but still high
At Thursday night's GOP debate in Charleston, South Carolina, Trump was asked about his recent meeting with the Times editorial board, during which he was quoted as saying that he would favor a 45 percent tariff on Chinese exports to the United States.
Trump fired back by saying that the paper of record was incorrect.
"It's the New York Times, they are always wrong," he said.
Sign up for the Reliable Sources newsletter
In July, Trump's campaign barred reporters from the Des Moines Register from attending events after the newspaper's editorial page called on the candidate to bow out of the Republican presidential race. Reporters for the Huffington Post, which for months had covered Trump in its entertainment section, have also been denied credentials.