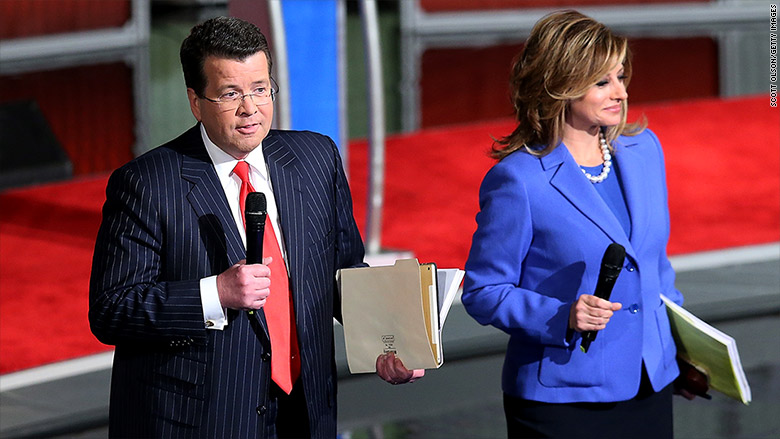 The first Republican debate of 2016 on the Fox Business Network averaged 11 million viewers -- the smallest total for any GOP debate this season, according to Nielsen ratings data.
The GOP debate last month, televised by CNN, averaged 18 million viewers in prime time.
Still, Thursday's Fox Business debate ratings are impressive when put into proper historical context. The GOP debate slate -- with Donald Trump front and center -- continues to blow past ratings records from past primary seasons.
Thursday's debate beat every other show on TV except for "The Big Bang Theory." Directly up against the debate at 9 p.m., the Fox broadcast network's reality show "American Idol" averaged 8.65 million viewers.
The GOP candidates trumped the Idols.
Among all viewers, the total was 11 million for the prime time debate between 9 and 11:30 p.m. Eastern; among viewers ages 25 to 54, the key demographic for cable news channels, 3 million tuned in.
The totals are down from Fox Business Network's first GOP debate, held back in November, which averaged 13.5 million for the prime time debate and 4.7 million for the "undercard" debate.
Lack of interest in the "undercard" this time around may have put a damper on the prime time totals. The mostly overlooked 6 p.m. debate averaged 2 million viewers and 289,000 in the 25-54 demo.
The ratings are a closely-watched measure of the public's interest in the presidential election.
At this point in the 2008 and 2012 primaries, GOP debates were drawing 5 to 7 million.
There's been a dramatic uptick in this cycle, spurred by Trump's surprise entrance into the race and his unpredictable, entertaining style.
The very first debate of the season, held by Fox Business Network's bigger brother Fox News, topped out at 25 million viewers in August.
Clearly some of the early curiosity about the two to three hour long debates has waned since then. But there's still a whole lot of interest among the viewing public.
Thursday's debate will rank as Fox Business Network's second highest rated program ever, surpassed only by its November debate.
There were almost a million tweets using the #GOPDebate Twitter hashtag.
Nielsen's ratings only count television viewership at home -- no web streams, no bars, no viewing parties.
Fox Business also live-streamed the debate for free on its web site, and said Thursday's debate peaked with 1.16 million concurrent Internet viewers. Its November debate peaked at 1.4 million.
Rand Paul made news by skipping the "undercard" after Fox Business said he did not qualify for the prime time stage.
Sign up for the Reliable Sources newsletter
Paul's aides asserted that he reached many more viewers by declining Fox's invitation to the "undercard."
"No regrets at all," Paul's communications director Sergio Gor said Thursday night. "We participated in countless TV, radio and print interviews. Our TV reach alone exceeded 9 million viewers and we generated a news cycle."