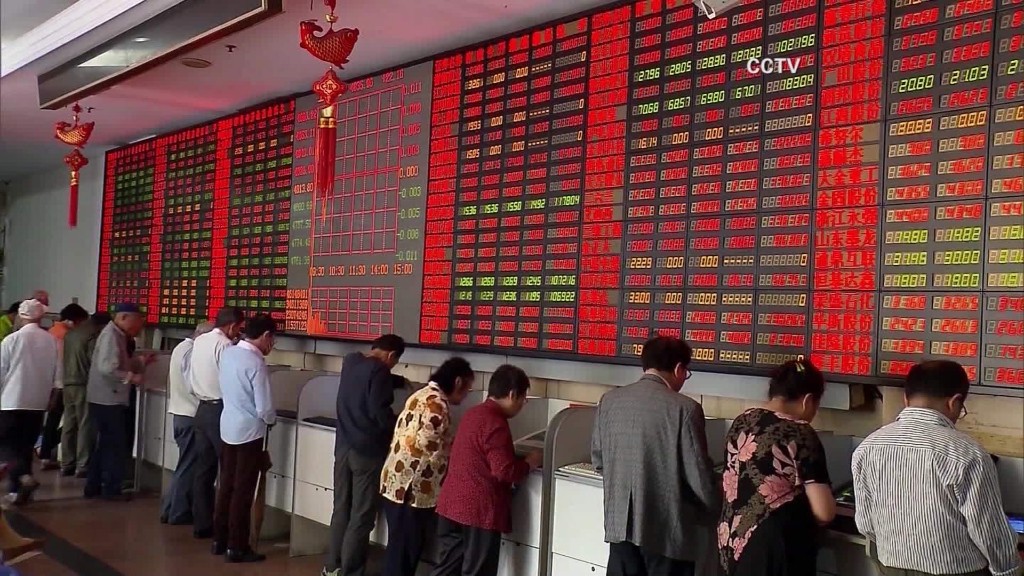 Ouch! As global markets nervously look on, China is expected to post its worst annual economic growth in 25 years, according to a CNNMoney survey of economists.
Gross domestic product is predicted to have expanded by 6.9% in 2015, compared with the previous year, based on the survey's median estimates. Growth for the last quarter is also estimated to come in at that rate.
That would represent China's weakest yearly growth since 1990, and falls a hair below the government's target of 7%. For 2016, economists are forecasting even weaker growth of 6.5%, according to the survey.
The official GDP data will be published by China's National Bureau of Statistics on Tuesday.
After years of breakneck expansion, the world's second-largest economy is now cooling fast, partly because of government efforts to shift China's growth engine away from manufacturing and toward the services sector.
"We expect growth to hit bottom in 2016," with choppy waters likely to remain over the next few years, said Xingdong Chen, an economist at the bank BNP Paribas. But "the service industry will continue to overtake growth in manufacturing, mining and public utilities," he said, a move experts suggest is necessary for continued economic health.
Related: 4 things to watch in China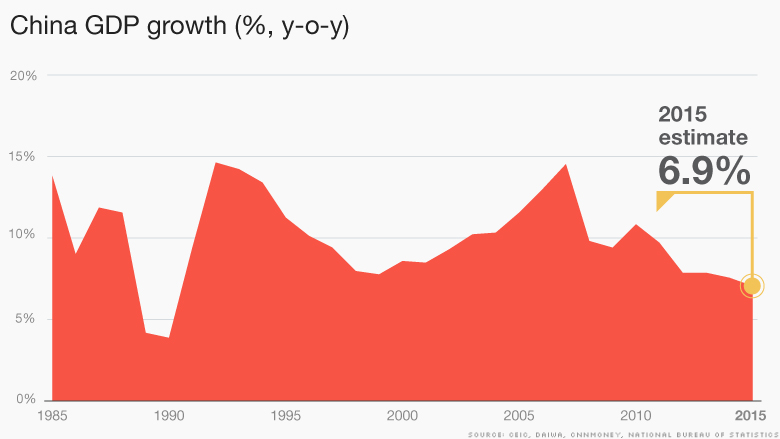 Some economists have adjusted their estimates recently to reflect poor manufacturing data and turmoil in Chinese stock markets that have left investors around the globe awash with uncertainty. At the heart of the rockiness is a drop in the value of the country's currency, the yuan.
In recent weeks, the central bank has attempted to guide the yuan lower against the U.S. dollar, a move that many analysts have interpreted as an effort to aid Chinese exporters and prop up weakening economic growth.
But the bank's approach has alarmed investors who aggressively sold the currency, concerned that the declines will continue. China has burned through a chunk of its vast foreign exchange reserves in efforts to moderate the currency's movements.
Economists surveyed estimate the yuan will fall another 3% from current levels, closing 2016 around 6.8 yuan to the dollar.
The chaotic trading in the yuan, also called the renminbi, has undermined investor confidence in Chinese authorities' ability to smoothly manage the economy's deceleration following decades of torrid growth.
Related: China's premier on currency wars
One of Beijing's next big opportunities to reboot confidence will come at a high-profile political meeting in March. The government is expected to unveil details of its five-year social and economic plan through 2020 and announce its official annual growth target.
Experts are increasingly clamoring for China to unleash major stimulus efforts, instead of continuing with piecemeal measures as it has done over the past year. The moves, such as cutting interest rates and lowering the amount that banks must keep on reserve, have failed to deliver a dramatic boost.
"Less-than-apt communication and somewhat confusing policy initiatives have [been] unhelpful," said Wang Tao of UBS. "More aggressive monetary easing is an imperative if policy makers were to achieve above 6.5% GDP growth in 2016."
Top government officials have said China will need to achieve expansion of at least that rate in order to hit its goal of doubling the economy from 2010 levels to $12 trillion by 2020.
Related: China growth in 'dangerous' territory
A China slowdown has global repercussions. The country rose quickly in recent decades as an industrial powerhouse, sucking in raw materials from around the world to build roads, bridges, factories and skyscrapers.
But with growth now on the wane, construction is faltering and demand for iron ore, copper, steel and lead is declining. Global commodities markets, and the countries that depend on them, are taking a big hit.
A slowing Chinese economy is also bad news for major trade partners, like the U.S. and Europe, that export to China.