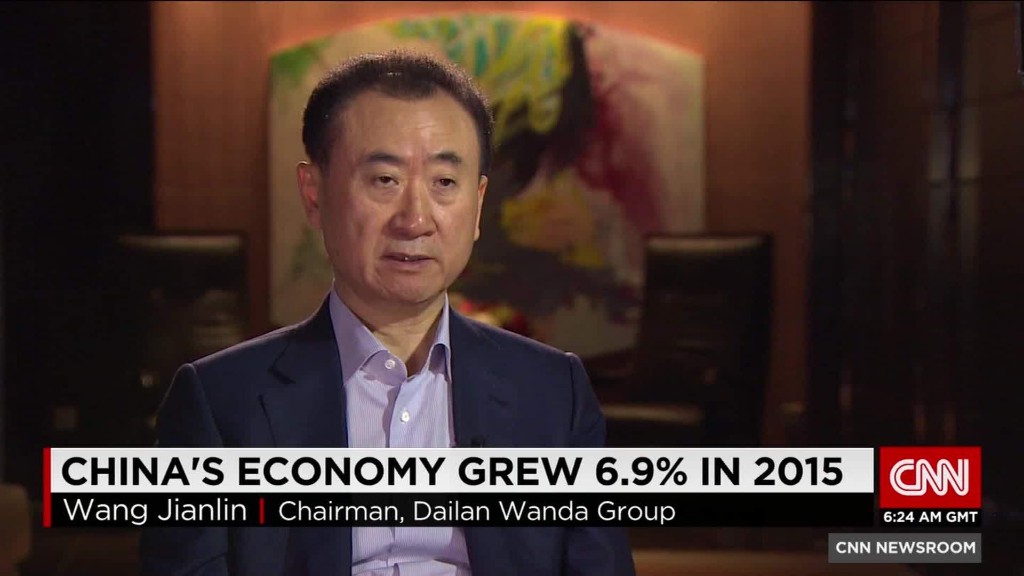 Amid global market jitters, China has posted its weakest annual economic growth in a quarter century.
Gross domestic product expanded by 6.9% in 2015, China's National Bureau of Statistics said Tuesday. That's in line with the median estimate from economists surveyed by CNNMoney.
The growth rate is a far cry from China's spectacular expansion in recent decades, but it broadly matches the government's 7% target.
For the fourth quarter of 2015, the economy grew 6.8%, compared with the same period a year earlier. That's a touch below economists' estimate of 6.9% and the slowest rate since the dark days of the financial crisis in 2009.
After years of torrid expansion, the world's second-largest economy is now decelerating. The government is trying to shift the growth engine away from manufacturing and debt-fueled investment toward the services sector and consumer spending.
Uncertainty over the outlook for the Chinese economy, a key driver of global growth, has roiled international markets lately. China isn't buying as many commodities as it once did, and the world is awash with oil -- hurting exporters. The country's currency, the yuan, has fallen against the dollar.
But the growth data released Tuesday didn't appear to trouble investors. The Shanghai Composite was broadly flat in morning trade and later rallied to close up 3.2%. The Hang Seng in Hong Kong gained 2.1%.
Related: Is China cooking its books?
Some observers doubt the accuracy of China's GDP numbers, arguing they are massaged by government officials. Instead, they look at statistics including electricity consumption, railway freight volume and bank loans to gauge growth.
"China's ability to continue to post such rapid and relatively stable growth, even as it has increasingly become a source of volatility in global equity and commodity markets, will undoubtedly attract a great deal of skepticism," said Julian Evans-Pritchard of Capital Economics.
Instead of 6.8%, Evans-Pritchard estimates growth in the fourth quarter was in reality closer to 4.5% -- but stable.
"We still think concerns about China's outlook are overdone and that the recent market volatility has been driven more by sentiment than by economic fundamentals," he said.
Related: China's stock watchdog admits market's problems
China's official growth numbers are expected to slow further in the coming years, a situation President Xi Jinping has dubbed "the new normal."
For 2016, economists are forecasting growth of 6.5%, according to the CNNMoney survey. That's the rate top Chinese officials say is needed to reach the government's goal of doubling the economy from 2010 levels to $12 trillion by 2020.