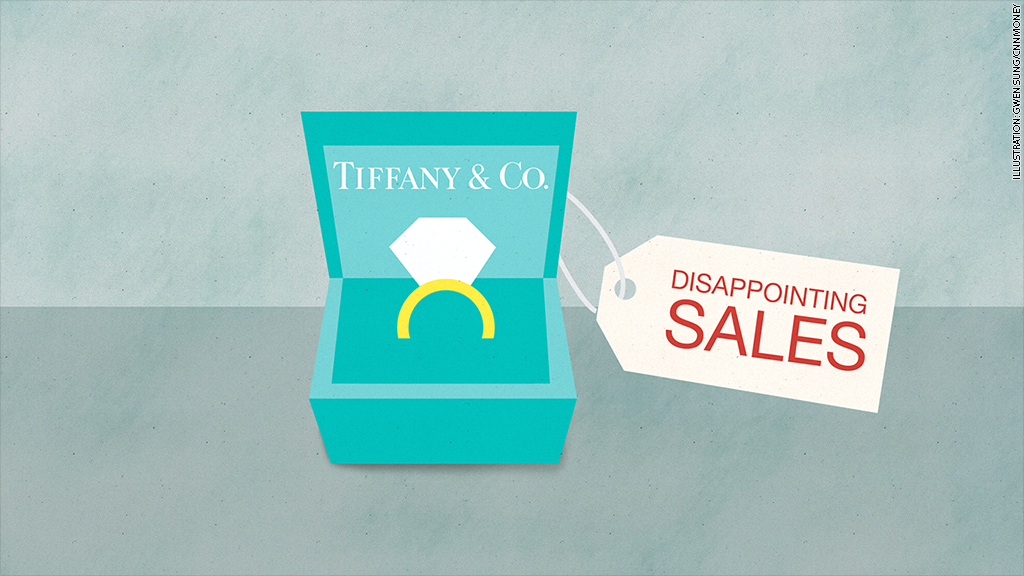 There's nothing pretty about Tiffany's holiday performance.
The luxury jeweler with the iconic blue boxes said Tuesday it suffered a 5% slump in holiday sales at stores open at least a year due to the fallout of the strong U.S. dollar.
Things are so gloomy at Tiffany (TIF) that the company downgraded its 2015 profit outlook and moved to cut costs by slashing jobs. It's the first time Tiffany announced job cuts since the Great Recession, according to Wells Fargo.
It's not clear how many employees will be impacted, but Tiffany told CNNMoney the job cuts will impact a range of functions and take place this month.
"It's good they're doing this, but it's also a little concerning. Is this a sign they think this sales instability is going to continue? Maybe. It doesn't exactly give you confidence," said Ike Boruchow, an analyst who covers Tiffany at Wells Fargo.
Wall Street was spooked by the ugly holiday sales figures from Tiffany. The jeweler's stock dropped 5% on Tuesday, leaving it down 15% already this year.
Related: Investors are terrified...and they're overreacting
Tiffany blamed its shrinking sales on "challenging and uncertain global economic conditions."
The company cited "weak tourist spending" in New York and some other markets as visitors to the U.S. splurged less on jewelry due to the strong U.S. dollar.
That's a big deal because Tiffany gets about 25% of its North American sales from foreign tourists who shop at major stores like the Manhattan flagship shop on Fifth Avenue.
"They just aren't seeing wealthy foreign tourists shop here anymore. Plus, the markets have become more volatile and that causes wealthy Americans to tighten their wallets as well," said Boruchow.
Not only did the currency turbulence hurt demand for goods sold in the U.S., but it dented Tiffany's international revenue as it was translated back to dollars. The strong dollar has created similar challenges at Macy's (M), which recently said it will slash more than 4,000 jobs
Things don't look much better at Tiffany for 2016. The company said the strong dollar and "global macro challenges" will lead to "minimal growth" in sales and profits this year.