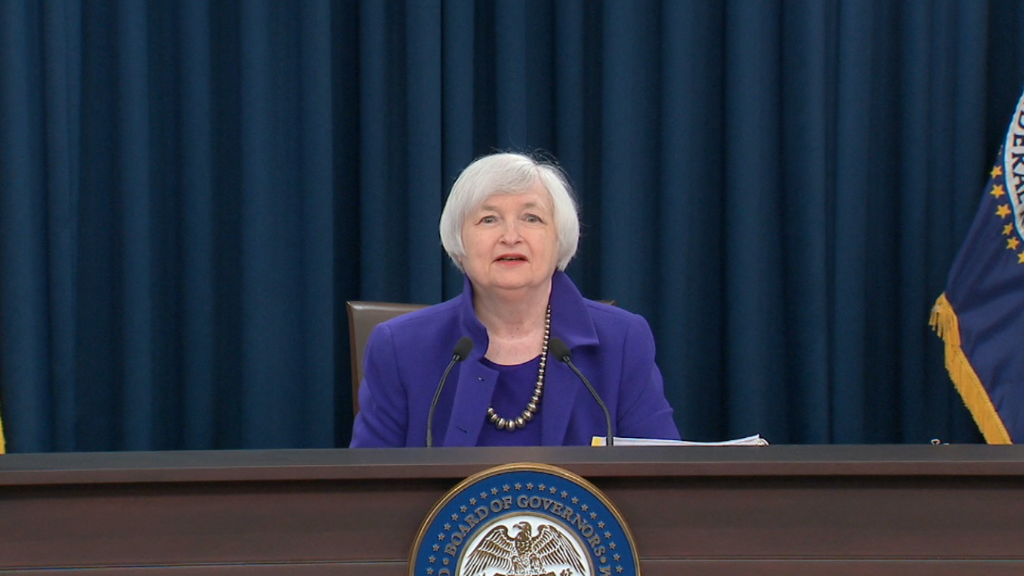 Global volatility could force the Federal Reserve to pump the brakes this year.
The Fed raised its key interest rate in December and projected there would be four more rate hikes in 2016.
Not so fast. American stocks are getting nauseous from the global economic slowdown and falling oil prices.
The Dow has fallen 250 or more points five times in the first 10 trading days this year. The S&P 500 is down 8% in two weeks and the Nasdaq has lost 10% in that time. All three indexes are in a correction -- down 10% from their most recent highs.
Many on Wall Street believe there will only be two rate increases this year.
"We doubt that the Fed will be hiking the federal funds rate four times this year," Ed Yardeni, chief investment strategist at Yardeni Research. Yardeni is calling for only one rate hike this year.
The Fed meets next week but no one expects it to raise rates again at that meeting. But it could raise rates at its meeting in March.
Rate increases are the Fed's way of saying that the U.S. economy is looking healthy. When it hikes less or changes its forecast, that's a sign that the Fed is feeling less confident about the economy's health.
The Fed cares about how U.S. markets perform -- at least to the degree that stocks impact the U.S. economy. And its committee members have seen this before: In August stocks were on a roller coaster ride, which partially caused the Fed to not raise rates in September.
Related: Oil prices dive on Iran sanctions fallout
Fed Chair Janet Yellen and her colleagues try to look beyond short-term volatility, but sometimes they can't ignore it. Oil prices have fallen to their lowest point in 12 years at $28 a barrel.
Falling oil prices are keeping inflation -- one of the Fed's key metrics -- below where Yellen wants it to be. The Fed wants inflation to be moving towards 2%, but inflation in November only hit 0.5% -- its highest mark all year.
Oil prices don't need to go up for the Fed to raise rates, Yellen said in December.
"All they need to do is stabilize," she said.
That's not happening so far. What's worse is that when oil prices fall, energy firms cut back on spending. Those spending cuts hurt U.S. economic growth.
Related: World stock markets start week with drop
The U.S. economy probably didn't finish 2015 strong. The Atlanta Fed is projecting the economy grew 0.6% in the fourth quarter. Barclays' economists forecast a meager 0.3% growth between October and December.
If it's anywhere near those guesses, economic growth will be well behind last year's fourth quarter figure of 2.1%.
And that's just the beginning of the list of things that could hold back the Fed. The U.S. dollar could strengthen more as currencies like China's continue to lose value. The broader global slowdown is another major factor possibly making the Fed hit pause on its rate hike plans.