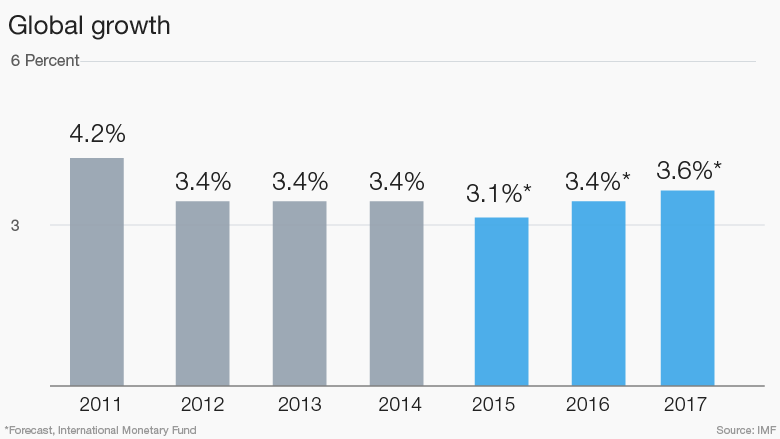 A slowdown in China and rock-bottom oil prices will continue to drag on growth, the International Monetary Fund said Tuesday.
The IMF has downgraded its global growth projections for this year and the next. The world economy will continue to grow, the group predicted, but not by as much as it estimated back in October.
"The Chinese economy, lower commodity prices, and strains in some large emerging market economies," have forced the IMF to lower its growth estimate by 0.2 percentage points to 3.4% for 2016. It lowered its 2017 growth outlook by the same amount to 3.6%. Meanwhile, China will slow to 6.3% this year and 6.0% in 2017.
The IMF predicted final global growth for 2015 will come in at 3.1%.
Related: World is facing the worst risks in a generation
The IMF said some countries "currently in economic distress" will help drive global growth over the next two years. It cited Brazil, Russia, and select Middle East nations as leading the charge as their economies see "gradual improvement."
The IMF estimated oil prices will average about $42 a barrel this year, but rise to more than $48 in 2017. The projections are based on oil prices from Dec. 10, 2015, when oil was trading near $35. Crude is currently priced at less than $30.
The IMF warned that a host of economic and economic shocks could derail its more modest estimates. Given the wild start to the year, that probably shouldn't come as a surprise.