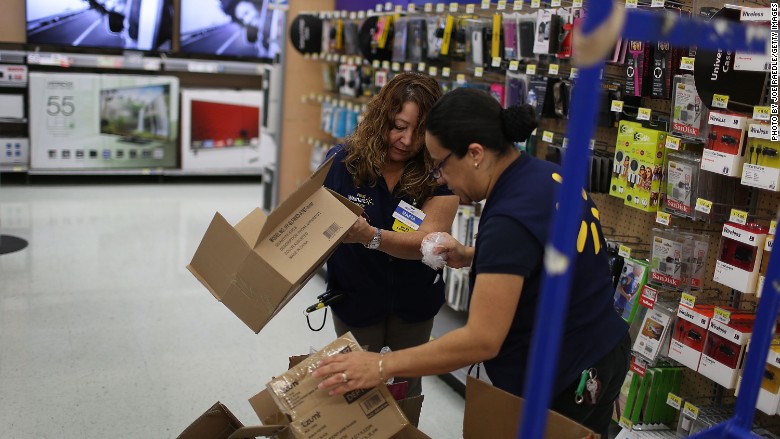 Walmart will be giving 1.2 million of its U.S. workers a pay hike next month.
Starting February 20, every Walmart and Sam's Club employee hired before January 1, 2016, will earn at least $10 per hour, the company announced Wednesday.
It will be the second round of pay increases, part of a plan to boost wages that Walmart first announced last year.
The first round came last April. It increased the pay of 500,000 Walmart workers to at least $9 per hour.
After that took effect, Walmart said its average hourly rates were "about" $13 for full-time employees and $10 for part-time.
The company said Wednesday that the second round of wage hikes in February will bring the average hourly wage to $13.38 for full-time workers and $10.58 per hour for part-timers.
Walmart (WMT) does not release data about how many full- or part-time workers it employs in the U.S., but the company said in a statement that it converted about 150,000 employees from part-time to full-time status last year.
The group behind Making a Change at Walmart -- a longstanding campaign for better employment terms -- said the pay raises are nothing but a publicity stunt.
"It's easier to find a unicorn than a Walmart worker who has gotten a meaningful raise, or hasn't had their hours cut," United Food & Commercial Workers Union spokeswoman Jessica Levin said via email. "America's hard-working families expect better from a company that makes billions in profit a year."
The organization, along with a coalition of employees called OUR Walmart, have lobbied the company for a "living wage" of at least $15 an hour.
Related: Walmart will close 269 worldwide, affecting 16,000 workers
The news comes just five days after Walmart announced that it's shutting down 154 of its U.S. locations. That affects 10,000 workers who will either be laid off or relocated to a different store.
Like most retailers, Walmart suffered in 2015. Its share price dropped 30% over the course of the year.
When the company issued its latest earnings report in October, CFO Charles Holley said workforce investments -- like increasing paychecks -- will put a dent in its bottom line. Walmart expects operating profits to decrease by $1.5 billion in its fiscal year ending January 2017.