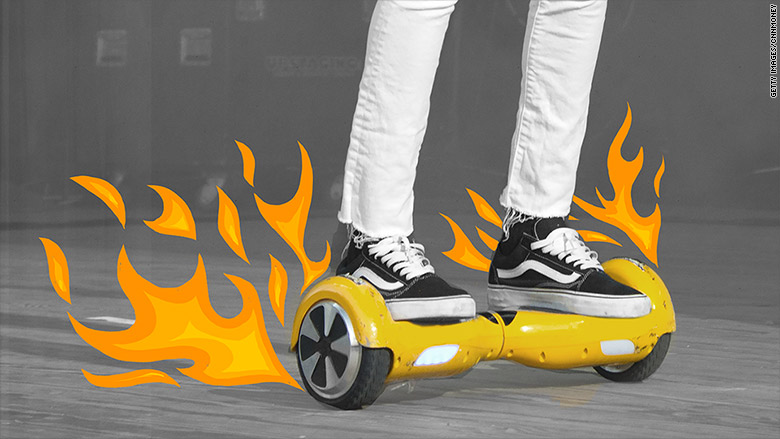 Amazon is now offering full refunds on any hoverboards sold on the site, including in the U.S. and Canada. The refunds are a response to the rash of fires and falls that have plagued the popular two-wheeled balance boards.
The U.S. Consumer Product Safety Commission praised Amazon's decision on Wednesday and said it expects other retailers and manufacturers to do the same. The CPSC has been investigating hoverboard safety issues since December.
Because of "the increasing number of serious injuries and emergency room visits associated with these products," the commission announced that it is expanding its investigation into hoverboard falls and injuries, which may be caused by design flaws in the boards.
Related: Hoverboard related falls spike for the holidays
"At first glance, it is easy to believe the risk of falling off a hoverboard is an obvious one and to dismiss those injuries as user inexperience or error," said CPSC chairman Elliot F. Kaye in a statement. "However, I am concerned, for example, that the current designs of these products might not take fully into consideration the different weights of different users, potentially leading to the units speeding up or lurching."
Videos of kids, parents and celebrities falling off hoverboards filled social media after the holidays. Though most injuries seemed mild, the CPSC warns that some falls can be serious and life-altering, and recommends all users wear safety equipment.
Related: It's just the beginning for hoverboard lawsuits
The CPSC is already investigating at least 39 reports of hoverboards smoking or bursting into flames, often while charging. The agency believes the fires may be related to lithium ion batteries overheating. So far, CPSC is investigating hoverboards made by 13 manufacturers.
While they wait for a definitive finding from the CPSC, more than 30 colleges have temporarily banned the kitchy transportation devices. A pair of industry groups announced they are working on creating safety standards for hoverboards.
In December, Amazon started offering refunds on some hoverboard models sold in the UK. It also stopped selling certain hoverboard models around the world. Most recently, the online retailer has emailed some customers in the U.S. who purchased the boards and offered refunds. Anyone interested in returning their hoverboard can contact Amazon customer service.
Even though it's offering refunds, Amazon still sells a number of hoverboards on its site.