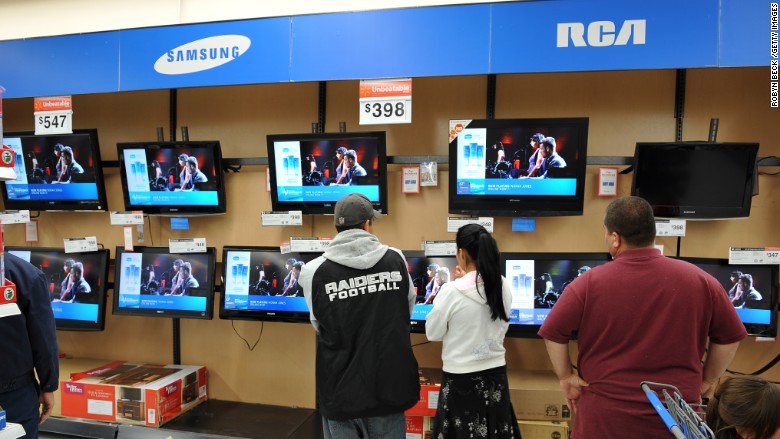 Eying a new big screen TV before the Super Bowl? You're not alone, and you could get a good deal if you shop soon.
26% of Americans are expected to purchase a new TV this year -- and a quarter of them will do so during Super Bowl sales.
That's according to FatWallet.com's annual TV Buyer Survey that came out this week. It found that more people plan to buy televisions ahead of Super Bowl Sunday than at any other time during the year.
Retailers have caught onto the trend. According to Brent Shelton, online shopping expert at FatWallet, consumers will be able to save an average of 20% or more on high-end TVs in January.
The survey gives a glimpse into what consumers want -- and how much they're looking to spend.
Nearly half of TV buyers are expecting to purchase their first 4K television this year. 4Ks are the ultra high-definition televisions that produce clearer, vibrant images. They could also lead to you paying an increased energy bill -- so be careful. Last year, just 4% of people said they owned a 4KTV.
Related: LG shows off a TV you can roll up like a newspaper
55% plan to spend at least $500 on a new television, and 27% will spend more than $700.
Retailers like Walmart (WMT) are already starting to post deals in an effort to lure consumers to buy with them.
Walmart is offering a 50-inch Samsung 4K UHD TV for $698, a 55-inch LG 4K UHD TV for $698, and a Vizio 55-inch Smart LED HDTV for $568.
It's also selling smaller televisions, like a 32-inch Sony LED HDTV for $198 or a 40-inch Sony Smart HDTV for $348. As well as game devices like Roku 3 Streaming Device for $98, which comes with a $5 VUDU credit to buy or rent movies or games.