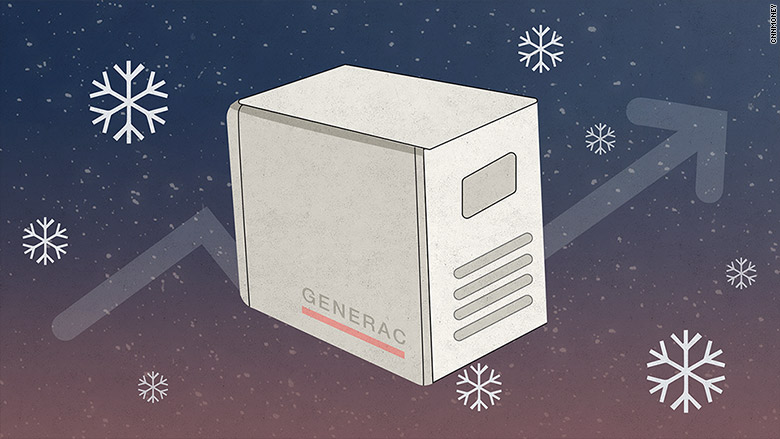 Tens of millions of people on the East Coast may be dreading the big winter storm heading their way this weekend.
But investors in Generac (GNRC), a company that makes backup generators for homes and businesses, are probably singing a rousing chorus of "Let It Snow."
The weather outside may soon be frightful but Generac's stock performance the past two days has been delightful. Generac's stock rose more than 2% in midday trading. And the stock was up nearly 5% on Wednesday.
Does this really make sense though? Is anyone really rushing out to Home Depot (HD) or Lowe's (LOW) today to buy a generator just in case heavy snow, wind or ice lead to a power outage?
Related: Full coverage of the winter storm from CNN
Jodi Marose, a spokesperson for Generac, said the company has heard from dealers and retailers that there is increased consumer interest in the company's generators. She added that the interest is coming from "up and down the East Coast."
But interest doesn't necessarily equal sales. Even though it makes sense to be prepared, some may not choose to invest in a generator until the power is already out.
Remember Snowmageddon 2015 -- the supposed storm of the century that didn't wind up packing as big a wallop as meteorologists predicted? Shares of Generac surged 5% in late January ahead of that snowstorm.
But when Generac reported its first quarter earnings last April, it said that sales of portable residential generators fell due to "a decline in power outage severity compared to the prior year." Shares plunged 10% on the news.
Generac got another break in early October when Hurricane Joaquin was threatening the United States.
The stock rose 10% in one day as the media reported how Joaquin was shaping up to be one of the strongest storms on record.
Generac even put out a press release with the somewhat hyperbolic headline of "Hurricane Joaquin Expected to Intensify; East Coast Has Minimal Time to Prepare."
Related: Hurricane Joaquin helped to lift 'storm stocks'
The hurricane did wind up wreaking havoc on the Bahamas and Turks and Caicos. But it never made landfall in the United States. As a result, analysts don't believe that Generac received a bump from consumers worried about Joaquin.
Wall Street is predicting that Generac's earnings and sales for the fourth quarter were down from the same period in 2014.
And the stock price -- despite this week's pop -- reflects that. Generac is trading more than 40% below its 52-week high.
Generac did enjoy a huge boost in sales, profits and brand name recognition after Superstorm Sandy decimated coastal stretches of New York and New Jersey in October 2012.
Millions were without power shortly after the storm hit. Some didn't get electricity back for more than a week.
It would be a huge surprise if this wintry mix causes anywhere near the damage that Sandy did.
Generac is a solid company. It makes an important product that can be a lifesaver for consumers when they need electrical power.
But Generac is not the most exciting company in the world. After a tough 2015, analysts are predicting sales growth of just 4% in 2016 and earnings growth of 8%.
So while worried East Coasters may be stocking up on milk, bread and other essentials, investors probably shouldn't rush to load up on Generac's shares.