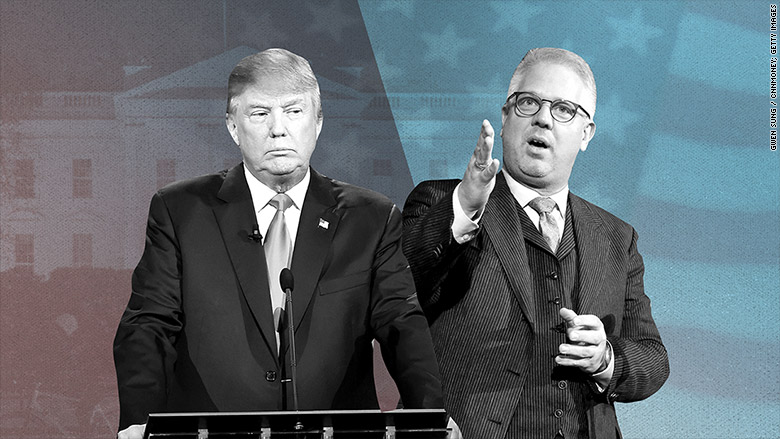 Donald Trump thinks "wacko" Glenn Beck is no match for Sarah Palin.
Trump renewed his feud with Beck on Thursday, days ahead of the conservative commentator's scheduled campaign appearances with Ted Cruz.
Cruz's courtship of Beck was perceived by many observers as a response to Palin's endorsement of Trump earlier this week.
"Wacko @glennbeck is a sad answer to the @SarahPalinUSA endorsement that Cruz so desperately wanted," Trump tweeted on Thursday. "Glenn is a failing, crying, lost soul!"
Related: Glenn Beck: Why do conservative pundits support Trump?
Beck's appearance with Cruz might fall short of an endorsement. On his radio show on Thursday, Beck downplayed the idea that he will be throwing his support behind Cruz.
"I don't endorse," Beck said. "Never have."
Beck even said that he's accepted an invitation to appear at another rally for "somebody else who will remain nameless."
The war of words between Trump and Beck has raged throughout the presidential campaign. Trump has previously called Beck "a mental basketcase," "wacky," "irrelevant" and "a real nut job." Last Friday, Trump tweeted at the account for "The O'Reilly Factor," where Beck was a guest that night.
Beck's feelings are mutual. He's repeatedly spoken out against Trump's candidacy and questioned the billionaire developer's conservative credentials.
But the context for the latest tussle is different. Palin's endorsement has dominated headlines for the last several days and provided Trump with cover from someone who still commands influence with many conservatives. It was also a considerable disappointment for Cruz, who has described Palin's endorsement of his 2012 U.S. Senate campaign as "game-changing."
After the former Alaska governor appeared on stage with Trump in Iowa on Tuesday, reports emerged that Beck will make a trip to Iowa to endorse Cruz.
Sign up for the Reliable Sources newsletter
Beck will appear at two Cruz rallies in Iowa this Saturday. When he was pressed by a co-host on Thursday to clarify whether he was going to endorse Cruz, Beck was coy.
"I'm saying that I'm going to be there on Saturday," he replied, "and I've never ever endorsed anyone."