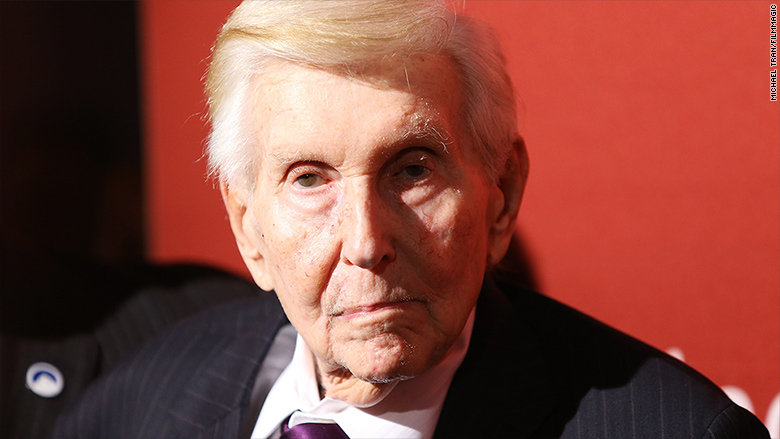 Viacom has slashed the pay of founder and executive chairman Sumner Redstone in the face of questions about his competency and the company's performance.
In a statement late Wednesday, Viacom said Redstone still received his typical $2 million salary in 2015, but was no longer eligible to receive a bonus or stock in the company. His total compensation in 2014 was $13 million. That amounts to an 85% pay cut.
CEO Philippe Dauman's bonus also got slashed -- by 30% cut. He took home a $14 million bonus last year, down from $20 million a year earlier. Dauman's base salary increased slightly to $4 million from $3.9 million, while his stock award was reduced slightly to $18.9 million from $19.9 million.
Viacom owns movie studio Paramount as well as cable networks such as Comedy Central, MTV and Nickelodeon.
Redstone, 92, had his mental competency challenged in court this past November. His ex-girlfriend Manuela Herzer sued, charging he had become a "living ghost."
She challenged a document giving Dauman responsibility for decisions about his medical care. Herzer charged that Redstone "lacked the mental capacity" to make the change and remove her from decisions about his care. His signature on the document granting Dauman decisions about his care was a illegible scrawl which trailed off down the side of the page.
A judge hearing the case last year declined to immediately grant Herzer's motion to again make decisions about his care. But the two sides are due back in court next week.
There was also a suit filed earlier this week charging that Viacom, CBS and respective board members have prioritized the interests of Redstone over their responsibilities to sharehareholders and the company.
Redstone controls the overwhelming majority of the voting shares at both Viacom (VIA) and CBS (CBS).
Related: Apple pay - What Tim Cook and other top executives pay
Viacom has also faced criticism from activist investors who argue that the company's executive leadership and board members are grossly overpaid. The company's revenue and profit were both down last year, and its share price declined 43%.