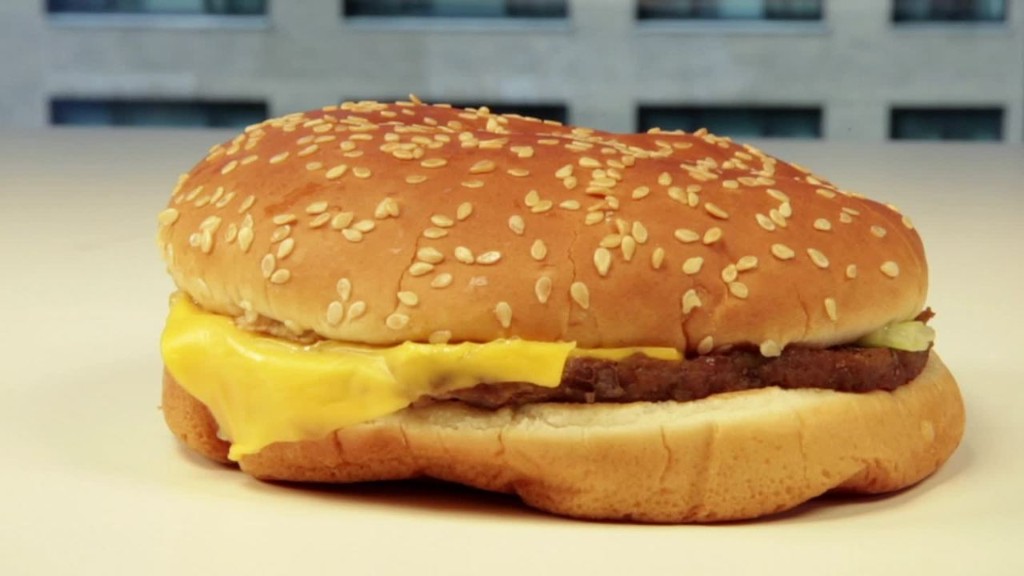 The Golden Arches are glittering again. McDonald's may be the Great American McComeback Story.
The fast food giant will report its fourth quarter sales and earnings on Monday. And Wall Street actually has fairly high hopes for McDonald's in what seems like the first time in forever. (Yes. A "Frozen" reference. Seemed apt given the weather forecasts.)
Analysts are predicting that the company will build on the momentum that began in the third quarter, when McDonald's reported same-store sales growth of 0.9% in the United States. That was its first sales increase in two years.
For the fourth quarter, Wall Street expects that same-store sales in the United States rose 2.1%. And analysts think same-store sales worldwide were up 3.2%
McDonald's (MCD) has seemingly turned things around under CEO Steve Easterbrook, who took over as the biggest of Big Macs nearly a year ago.
Easterbrook owned up to many of the big problems facing Mickey D's -- most notably a stale menu that did little to excite the taste buds of its customers.
Related: McDonald's Japan introduces chocolate-covered fries
Many burger gourmands were shunning McDonald's in favor of places like Five Guys, Smashburger and Shake Shack (SHAK).
So Easterbrook quickly made some changes. It added some new burgers -- such as the Maple Bacon Dijon and Pico Guacamole -- and gave diners more choices so they could customize the sandwiches.
It was all part of Easterbrook's strategy to turn McDonald's into a "modern progressive burger company" -- marketing lingo for a place that makes food you actually want and that doesn't taste like dirt.
Mickey D's also took aim at KFC and numerous other popular fried chicken joints with a new Buttermilk Crispy Chicken sandwich.
And McDonald's introduced all-day breakfast in October. That's something many McDonald's fans had long wanted.
So the fourth quarter results will be the first since McDonald's let you have an Egg McMuffin for lunch. That's one reason why analysts have high hopes for McDonald's.
In fact, Mark Kailnowski at Nomura is predicting that McDonald's will report a 4.1% increase in U.S. same-store sales. If that happens, it would be the company's best quarter in nearly four years.
Kalinowski wrote in a recent report that all-day breakfast and unseasonably warm weather in November and December probably helped to lift sales in the fourth quarter.
Related: McDonald's testing mac and cheese on its menu
That was based on his survey of 26 McDonald's franchisees who collectively run more than 200 restaurants in the U.S.
Kalinowski is optimistic about the first quarter as well. He's predicting a 3.8% increase in domestic same-store sales.
Still, many of the franchisees that Kalinowski talked to continue to sound disgruntled. They're not thrilled with what they see as bad decisions by executives at corporate headquarters in Oak Brook, Illinois.
Some franchisees told Kalinowski they are worried that aggressive discounting will hurt profits, even if it boosts sales and traffic. McDonald's recently introduced McPick 2, a replacement for its old Dollar Menu that lets customers pick two items for two bucks.
There were also gripes about how the new menu items and all-day breakfast could backfire since it may complicate the ordering process and lead to slower service.
Related: McDonald's not planning to spin off its real estate assets
But investors aren't concerned. They have every reason to act like a kid who just got the toy they really wanted in their Happy Meal.
Shares of McDonald's rose more than 25% in 2015, outperforming rivals such as Burger King owner Restaurant Brands (QSR), Wendy's (WEN) and KFC/Taco Bell parent Yum Brands (YUM).
The stock even did better than some of the fast casual restaurants that have been increasingly eating into McDonald's sales -- chains like Panera (PNRA) and Chipotle (CMG).
And so far this year, shares of McDonald's are flat and just 2% from their all-time high-- while the Dow is down nearly 8%.
That's impressive.
But it also means McDonald's has to deliver strong results Monday. The company's expectations have suddenly been supersized.