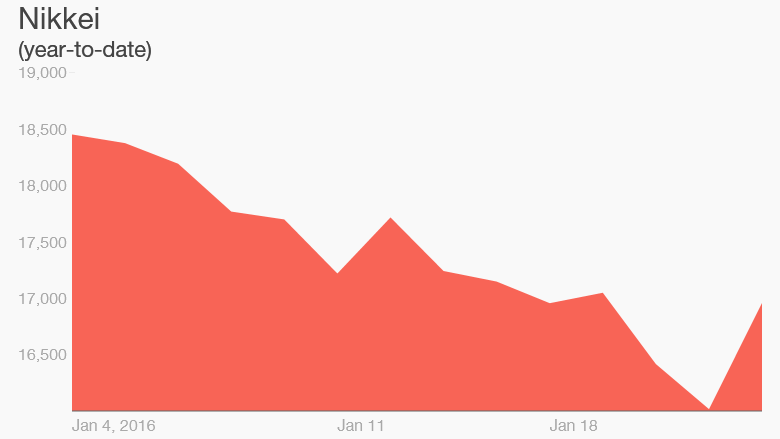 Asian stocks rallied on Friday, ending a turbulent week on a higher note.
Japan's Nikkei led the way, closing up 5.9%, followed by Hong Kong's Hang Seng Index, which added 2.9%. China's benchmark Shanghai Composite rose 1.3%.
U.S. crude oil also continued its rebound, climbing to around $30.80 a barrel the day after it posted its biggest one-day percentage gain since late October.
Energy stocks in Hong Kong, which had taken a beating earlier in the week, were among the biggest gainers. Chinese state-owned oil giants PetroChina and CNOOC both jumped more than 8%.
Friday's rise in Asia followed gains in Europe and the U.S. on Thursday after Mario Draghi, the president of the European Central Bank, hinted that more stimulus measures could be around the corner. His comments were enough to give stocks a lift and send the euro lower against the dollar.
Related: Mario Draghi calms markets with hint of more money
Stock markets in Asia kicked off 2016 with significant volatility, fueled by uncertainly over global growth amid China's economic slowdown.
Despite Friday's lift, major Asian markets are still in the red so far this year.
China's Shanghai Composite has posted the deepest losses, falling more than 17% since the start the year. Hong Kong stocks have fallen around 13%, while those in Tokyo have dropped roughly 11%.
And oil prices are still down roughly 20%, far below their June 2014 peak of $107.73.