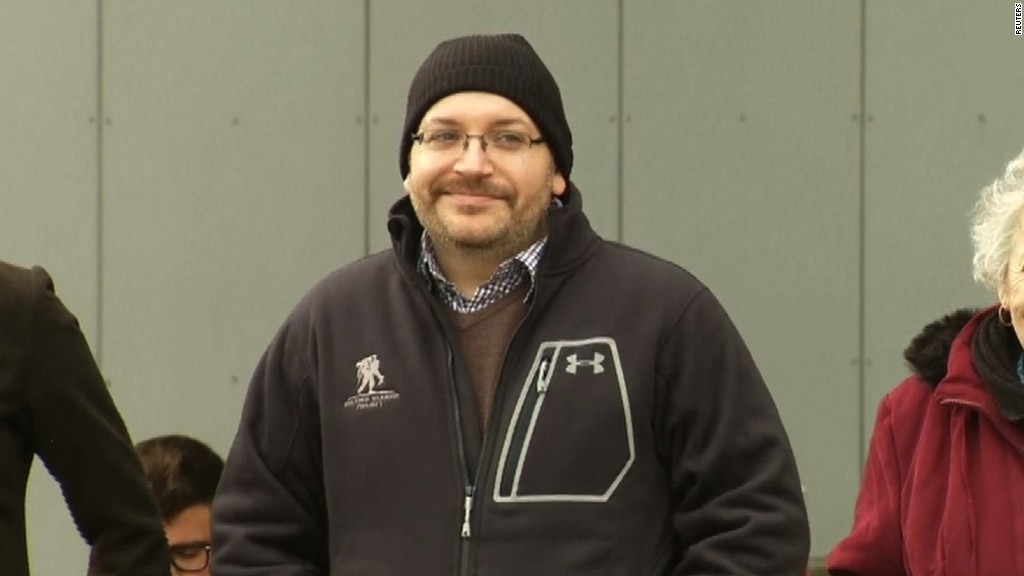 "Something is wrong."
Those were the words uttered by Yeganeh Salehi, the wife of Washington Post reporter Jason Rezaian, to her mother-in-law as the two women spent hours in the hands of Iranian security services at the time of Rezaian's release from prison.
They were eventually allowed to join Rezaian on the plane that flew him and other freed Iranian-American prisoners to Europe on Sunday -- but only after a puzzling ordeal that they recount in detail to the Washington Post in their first interview since the release.
Salehi and Rezaian's mother, Mary, tell the newspaper about the elation they felt on finding out that he was to be freed and their confusion at being kept by guards in halls and rooms at Tehran's airport without explanation.
"I didn't feel afraid," Mary Rezaian said. "I just felt inconvenienced."
Related: Rezaian 'feeling fine' and wants to see 'Star Wars'
Jason Rezaian, the Tehran correspondent for the Washington Post, spent 545 days behind bars in Iran. An Iranian court convicted him last year of espionage-related charges in a trial denounced by his family and colleagues as a sham.
He and the other Iranian-American captives were released Sunday as part of a prisoner swap between Washington and Tehran.
Salehi, an Iranian who doesn't have American citizenship, was unaware until the final hours that she was to join her husband on the flight out of Iran.
She told the Post that the first she heard of it was a whispered comment from one Iranian guard to another as she was being led out of a building: "The plane may take the wife, too."
Related: Iranians 'continued to manipulate' until the end, brother says
But her inclusion on the flight delayed the departure, according to Jason Rezaian's brother Ali.
"The Iranians, as they have done all along, continued to manipulate them, continued to try to mess with them, and prevented Yegi from leaving for some period of time," Ali Rezaian told CNN on Monday. "But thanks to the Swiss and thanks to the Americans, she came home with him."
The couple are now both in Landstuhl, Germany, where Rezaian has been undergoing medical evaluations at a U.S. military hospital.
Jason Rezaian said Wednesday he was "feeling fine" and wanted to spend time catching up on everything that he's missed over the past 18 months.