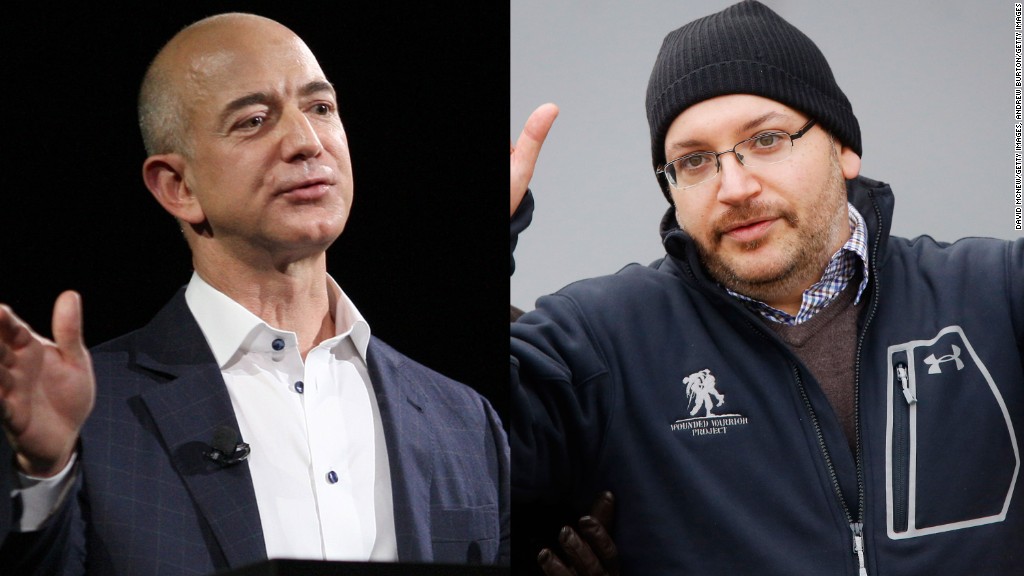 Amazon CEO Jeff Bezos, the owner of the Washington Post, quietly traveled to Germany this week to personally escort Post reporter Jason Rezaian home to the United States.
Rezaian, who was thrown in jail by Iran in July 2014, was released over the weekend as part of a prisoner swap. He since has been at the U.S. military hospital in Landstuhl, Germany.
In a statement Friday morning, Rezaian said he and his family members were heading home to the states. They were traveling on a private jet with Bezos, according to a person at the Post who asked not to be named.
When asked about the involvement by Bezos, a Post spokeswoman confirmed that "Jeff had dinner with the Rezaians Thursday evening at the Army base in Germany and then flew them back home."
"Like all of us, he is incredibly happy they are safe and sound," the spokeswoman added.
Related: Jason Rezaian's long ordeal in Iranian prison
Rezaian was joined on the flight home by his wife, Yeganeh Salehi, and his mother Mary. The Post shared a photo of Rezaian, Salehi and Bezos on the tarmac.
Bezos acquired the Post in 2013. His round trip between the U.S. and Germany is the latest example of the newspaper's extensive efforts to support Rezaian throughout the ordeal.
Post editors Martin Baron and Douglas Jehl were in Germany when Rezaian arrived on Sunday. They were able to meet with him on Monday.
Baron will be on CNN's "Reliable Sources" Sunday at 11 a.m. Eastern.
Bezos tweeted over the weekend, "Believe me, if you're ever tossed in a foreign prison, you want" Post publisher "Fred Ryan and Marty Baron on the team working to get you out."
Rezaian's statement on Friday said, "I am overjoyed to be reconnecting with my family. I am feeling well and plan to relax and enjoy home-cooked meals, sports, and movies with them over the next few days and weeks."
He has indicated that he plans to speak and write about his experience behind bars at some point in the future.
--Jethro Mullen contributed to this article.