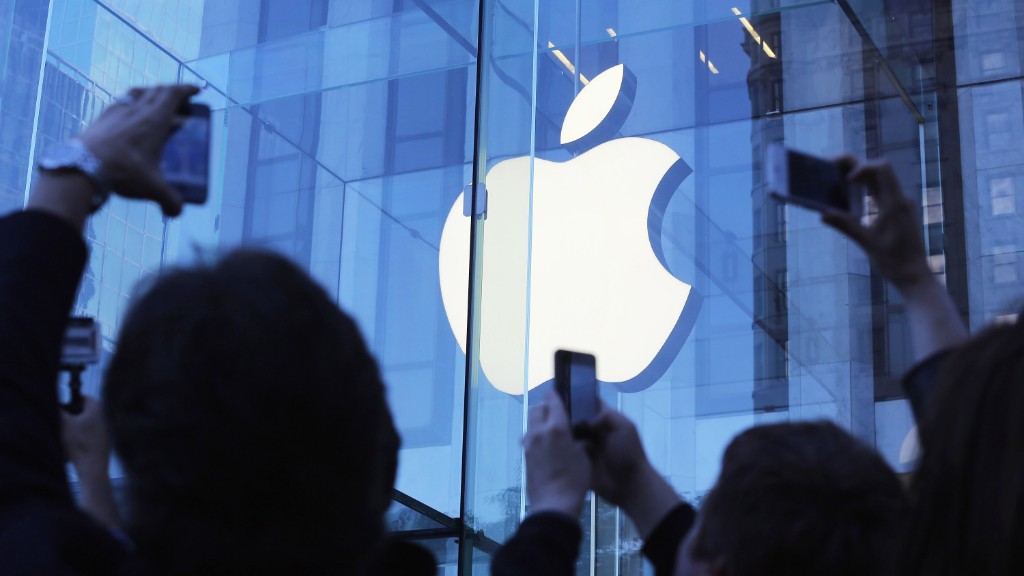 There is a growing discord between Apple, the company that makes iPhones and Macs, and Apple, the stock.
Apple, the company, is doing great. Apple, the stock, is not.
When Apple provides its quarterly financial update on Tuesday, Wall Street analysts predict Tim Cook will say that his company sold a record 76 million iPhones and 6 million Macs during the last quarter of 2015.
That's why Apple is expected to have earned an astounding $18.2 billion in profit in the past quarter. That would be a record, not just for Apple, but for any U.S. company -- ever.
So the "Apple" is shinier than ever.
Yet the stock is down 29% from its peak, which Apple (AAPL) reached 11 months ago. It's down 9% this month alone.
What gives?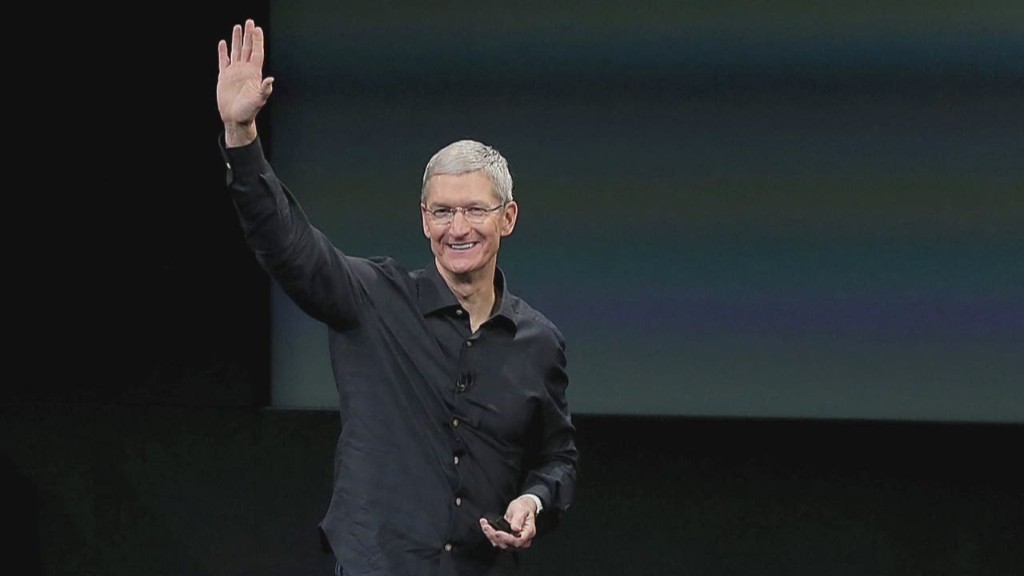 Investors are a fickle bunch. Apple shareholders don't care much about what the company has done for them lately. Instead, they're panicking that Apple might not be able to maintain its electric pace of growth in the future.
Their biggest concern is that Apple is quickly becoming a one-trick pony: 63% of the company's overall revenue came from iPhone sales last quarter, up from 56% a year earlier.That's a worry, because there's evidence that demand for the iPhone is waning.
Apple's suppliers, including ADI, Qorvo, Cirrus, Catcher, Largan, Dialog and Samsung, have all declared weak demand for the iPhone. They said Apple has cut orders for their components by as much as 70%, according to Nomura analyst Jeffrey Kvaal.
Kvaal believes that translates to iPhone demand in the United States and Europe, which was down between 5% and 10% last quarter. That was likely counterbalanced by Chinese iPhone demand, which he thinks was up 10% last quarter -- though even that growth is lower than previous quarters.
Apple sold 75 million iPhones in the final quarter of 2014, and Wall Street analysts now believe the company's iPhone sales are dangerously close to falling in the last quarter of 2015: 10 out of 33 analysts surveyed by Factset have lowered their iPhone sales forecasts this year.
If iPhone sales fall year-over-year, it would mark the first time -- ever -- that has happened.
Related: Why your iPhone battery dies with 50% left
Analysts' median sales expectations have fallen this year by half a billion dollars and profit forecasts fell by $100 million. Apple's stock has been downgraded 15 times by different analysts in 2016 alone.
Yet investors' iCrystal balls are notoriously foggy. Apple has a habit of surprising analysts: The company has beaten Wall Street's profit expectations for 12 straight quarters.
Even if Apple's iPhone sales and profit fall, it will still mark the second-biggest quarterly profit in U.S. corporate history and the second-largest number of smartphones any company has ever sold in a three-month period. Only Apple could achieve that and still manage to have a disappointing quarter.
But if Apple, the stock, is ever going to pull out of its recent funk, Apple, the company, is going to have to place some of its eggs in other baskets. IPad sales continue to fall, the Apple Watch has not taken off in a meaningful way, and the Mac remains a niche product.
It's not for lack of trying. Apple has partnered with IBM (IBM) to finally get Macs and iPads into workplaces. And it has built a compelling set of apps and services, like iMessage, FaceTime, iCloud, Apple Music and AirPlay, which make leaving Apple difficult for customers.
If Apple can pull some more tricks out of its sleeve to keep growing strong, expect the stock to turn around. If its financials start to slip, investors' fears might have been justified.