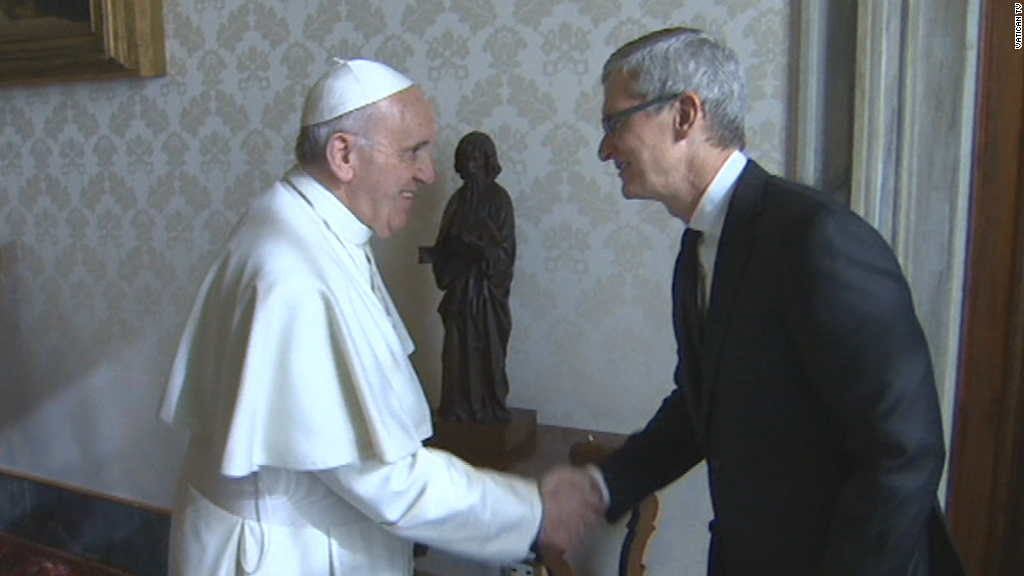 Apple CEO Tim Cook met with Pope Francis at the Vatican on Friday in a brief get-together.
The two spoke for about 15 minutes surrounded by their personal teams and Vatican cameras.
The meeting took place a week after the Catholic leader spent time with Eric Schmidt, the executive chairman of Google parent company Alphabet (GOOGL).
Silicon Valley wasn't on the Pope's agenda when he visited the United States in September, so visits from these key figures are prompting numerous theories.
An Apple spokesperson did not immediately respond to questions about the nature of the meeting.
Is the Vatican preparing to partner with Big Tech somehow? Or are the meetings largely a symbolic extension of the Pope's tech-friendly image?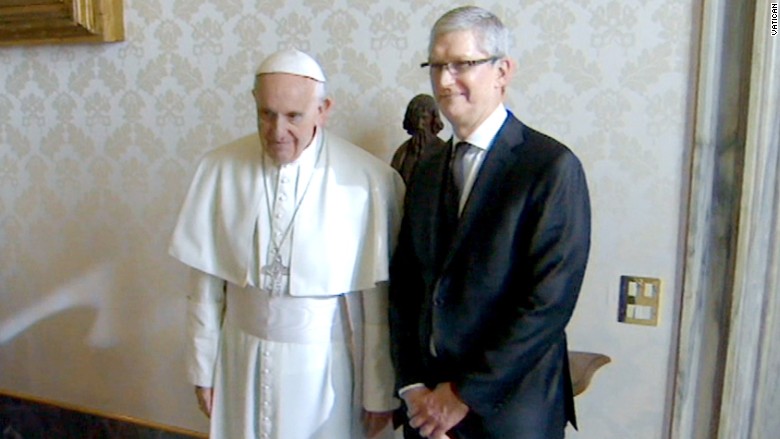 Pope Francis assumed the papacy in 2013 after Pope Benedict retired. Since then, he has used Google Hangouts to chat with children from around the world, and Twitter to share snippets of his preachings. But Pope Francis is far from tech-savvy.
During a Google Hangout session last year, the Pope described the Internet as a "gift from God," and promoted technology as an educational aid for people who might be struggling with disabilities.
But when one child asked if he liked to take pictures and put them on his computer, the Pope replied, "Can I be honest? I am really not so good at it...I don't know how to work with a computer. It's a bit of a shame."
On the other hand, Pope Francis seems to have an easier time with Twitter. The Pontiff often tweets from his @pontifex account to comment on global news events and controversies.
And the device he has preferred to use when he tweets? An Apple (AAPL) iPad, apparently. One of his previously used tablets sold for $30,500 in a charity auction last year.
Friday's meeting between Apple's CEO and the Pope was also significant given what both men have achieved for gay rights.
Cook came out in 2014 because he felt he "needed to do something" to help those bullied for their sexual orientation.
In 2013, Pope Francis set himself apart from his predecessor after saying that he doesn't "judge" gays, and that the church can't "interfere spiritually" in the lives of gays and lesbians.