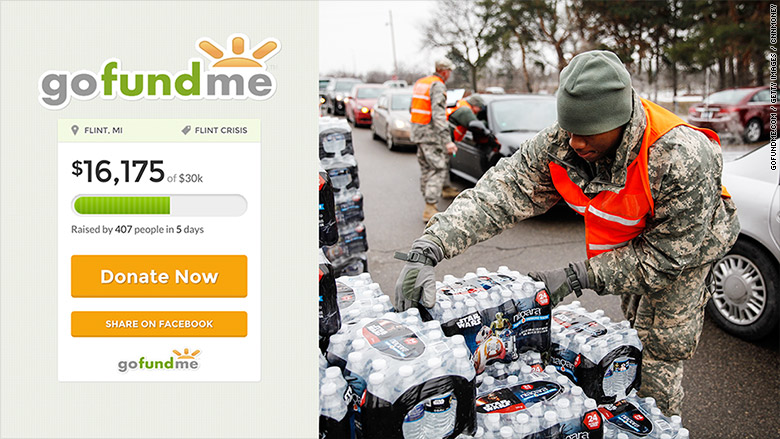 People who want to help Flint, Michigan, cope with its water crisis are flocking to GoFundMe to create campaigns and donate money.
More than 5,000 donors had given over $200,000 to more than 65 campaigns by Saturday afternoon.
The money will go toward things like purchasing bottles of water, water filters and even bags of fresh fruit and vegetables.
One account is even raising money to offset the costs incurred by the Virginia Tech researchers who first tested the water and found unsafe levels of lead.
Many of the campaigns even plan to deliver the water themselves to those who can't make it to distribution sites.
In response to the outpouring of support, GoFundMe itself is making its own contribution -- the campaign that raises the most money will get an extra $10,000.
The contest period started Friday and will last until January 29.
Related: Flint, Michigan water crisis spurs GoFundMe page
Dan Pfeiffer, GoFundMe's director of communications, said the purpose of the contest was to stage a friendly competition among the campaigns and encourage them to raise more money.
On Saturday afternoon, the campaign to beat was the "Water Aid for Flint, MI," which raised more than $47,000 in 15 days.
Pfeiffer said this is the first time GoFundMe has held a donation-raising contest since its founding in 2010.
It's not the first time the company has given to campaigns, however. After the shootings in San Bernardino, the company gave a gift of $10,000 to a crowdfunding effort started by the city's mayor.
The $10,000 is GoFundMe's response to charitable campaigns that have asked it to waive the 5% fee it charges on every donation. (GoFundMe won't be waiving the fee.)
"We've already seen a huge uptick in donations since we started the contest," Pfeiffer said.