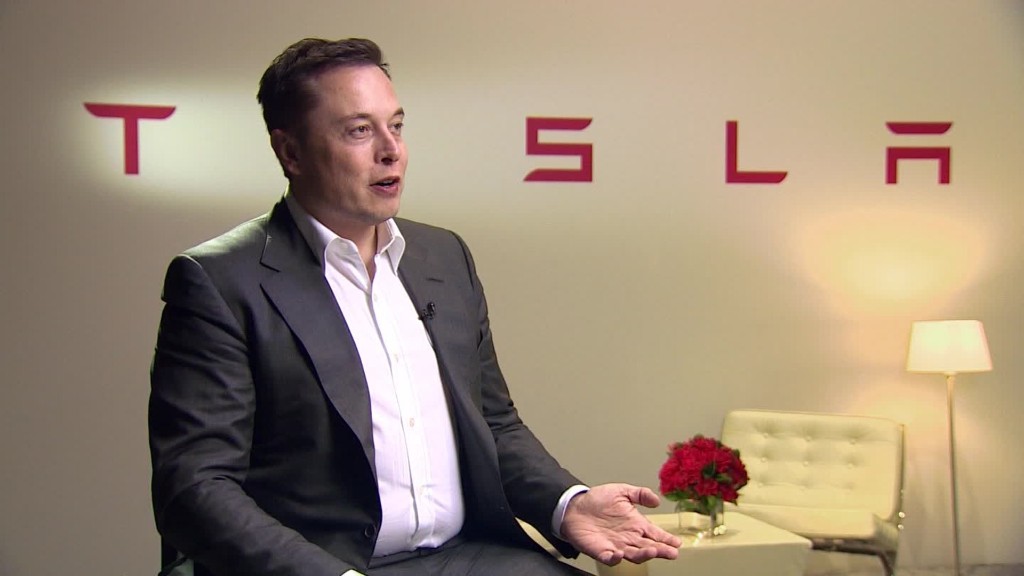 Plunging oil prices are set to hit the electric car industry hard, but Tesla vehicles won't be the worst affected, says CEO Elon Musk.
"[The] industry as a whole, I think, will definitely suffer from lower oil prices," Musk told CNN's Kristie Lu Stout on Monday. "It just makes economic sense."
The drop in the cost of fuel has already filtered through into the U.S. auto market, where sales of gas-guzzling pickups and SUVs rose last year. Oil has continued its steep descent this year, sinking last week to its lowest level in more than 12 years.
Musk, a prominent advocate for alternative energy, says Tesla's high-end vehicles are better placed to weather the effects of the oil slump than cheaper rivals.
"It probably affects us a little less because we have quite significant product differentiation," he told CNN, warning that lower priced electric vehicles will "take a pretty big hit."
Related: Low gas prices boost SUV and pickup sales
Tesla is pitching its planned Model 3 as more of a mass market car than its two predecessors, with an expected starting price of $34,000. But Musk said he was bullish about its prospects.
"Even if the economics of oil favor gasoline, I think the Model 3 still does well," he said. "It's more cases where there is little to no differentiation between the gasoline version of something and the electric version. If they're about the same, and the electric version doesn't have a compelling economic proposition, then you've got a real issue in the market."
Musk, who also owns a significant stake in Solar City, a solar panel maker, said he would welcome a strong push from rivals, including GM (GM)'s Chevrolet Bolt.
Related: OPEC bashes prospects for electric cars
"I think if GM or any other companies come out with compelling electric cars, that's good for the world and we would applaud that," he told CNN.
Speaking in Hong Kong, he said the electric vehicle market in China was just beginning to grow but moving in the right direction.
Some Chinese companies are getting "good traction" towards creating good electric cars, he said, giving a nod to automaker BYD, which is backed by Warren Buffett.
Tesla is still trying to figure out how to set up production of its vehicles in China, a challenging market for the company where its sales have disappointed.
Related: Tesla vows to ramp up deliveries in 2016
"Right now our cars in China are coming in with quite high import duty and we're not eligible for local incentives," he said "All our sales in China are effectively at quite a high penalty but that will be alleviated when we move to local production."
Musk said the Model 3 "will eventually be made in China" but estimated it would be "close to three years" before that's likely to happen.
Related: New taxes threaten Tesla sales in key European markets
Government policies in China, the world's largest polluter, are inevitably moving toward reducing emissions, favoring electric vehicles, he said.
"I think there is an understanding by the Chinese government that [electric vehicles] are important to the future," Musk said. "In order to have clean air in cities, you have to go electric."