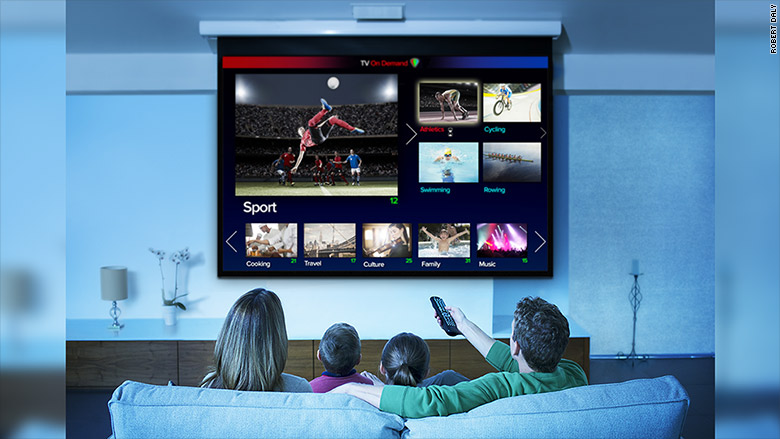 Cable boxes worked overtime this weekend as snowbound people along the East Coast stayed indoors waiting for the blizzard to pass.
At one point on Saturday, nearly 1.3 million Comcast customers used Xfinity On Demand to watch movies and TV shows at the same time -- a Comcast (CCV) record for simultaneous views, a spokeswoman told CNNMoney.
In total, on demand viewing for Comcast, the biggest cable TV and Internet provider in the U.S., was up 23% from a week earlier.
"This was driven in part by significant spikes in Jonas-impacted regions," she said in an email referring to the name given the storm.
On-demand viewing was 56% higher in Baltimore and Washington, where snowfall accumulation exceeded 29 inches in some areas. Philadelphia and New Jersey viewership saw the second highest uptick at 50%.
And what were people watching?
-- "Shades of Blue," "Game of Thrones" and "Teen Titans Go" were the most watched TV shows.
-- "Hotel Transylvania" on FX was the most watched free movie.
-- "The Intern" was the most rented movie just about everywhere except in Washington and Baltimore where customers were watching "The Martian."
Time Warner Cable (TWC) ran an analysis of Internet usage in the New York City market for CNNMoney. New York City was hit with about 27 inches of snow.
"We experienced an increase in Internet usage of 34% on Saturday [compared to the previous week]," a spokeswoman said in an email. She declined to provide specifics on which sites saw the biggest traffic.
CNNMoney reached out to Netflix (NFLX) for this story, but the company said it does not share "streaming info or data."