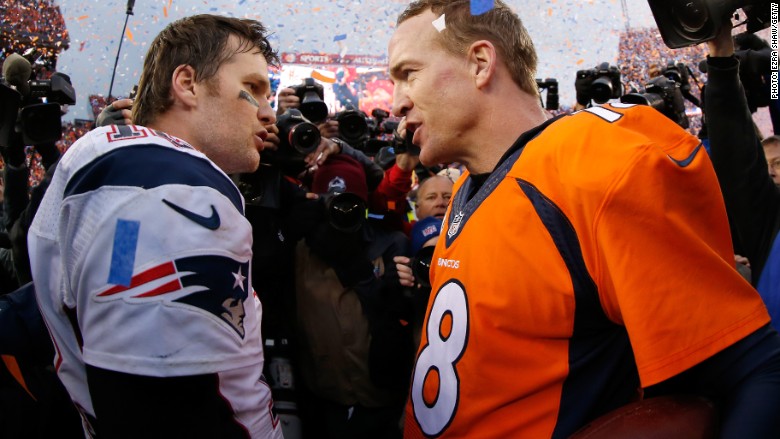 The only thing inflated in Sunday's AFC Championship game were the ratings.
CBS (CBS)'s telecast of the Denver Broncos' thrilling 20 to 18 win over the New England Patriots brought in the biggest viewership for an AFC Championship game since 2011.
The NFL game featured two of the league's best quarterbacks -- Peyton Manning and Tom Brady -- and brought in an average viewership of 53.3 million, according to the network.
The game's audience peaked at 62.9 million from 6:00 to 6:30 p.m. ET when the Patriots drove down the field to nearly tie the game in the final moments.
Sunday afternoon's game was up 26% from last year's AFC championship which also included the Patriots and would later be synonymous with the "Deflategate" controversy.
The AFC championship game topped the NFC championship game between the Arizona Cardinals and Carolina Panthers. That game, a blowout won by the Panthers, brought in an average viewership of 45.7 million viewers for Fox.
Related: NFL's wild card weekend scores in ratings
The big viewership for the Broncos-Patriots matchup once again shows that the NFL is the biggest ratings powerhouse on television and just continues to get bigger.
The game was also undoubtedly pumped up due to a massive snowstorm that hit the Northeast causing many to stay in and watch the game on Sunday. The history between the two quarterbacks most likely also played a part in helping build the big viewership.
This was the 17th meeting between Manning and Brady and was the fourth match up between the two legendary quarterbacks in an AFC title game.