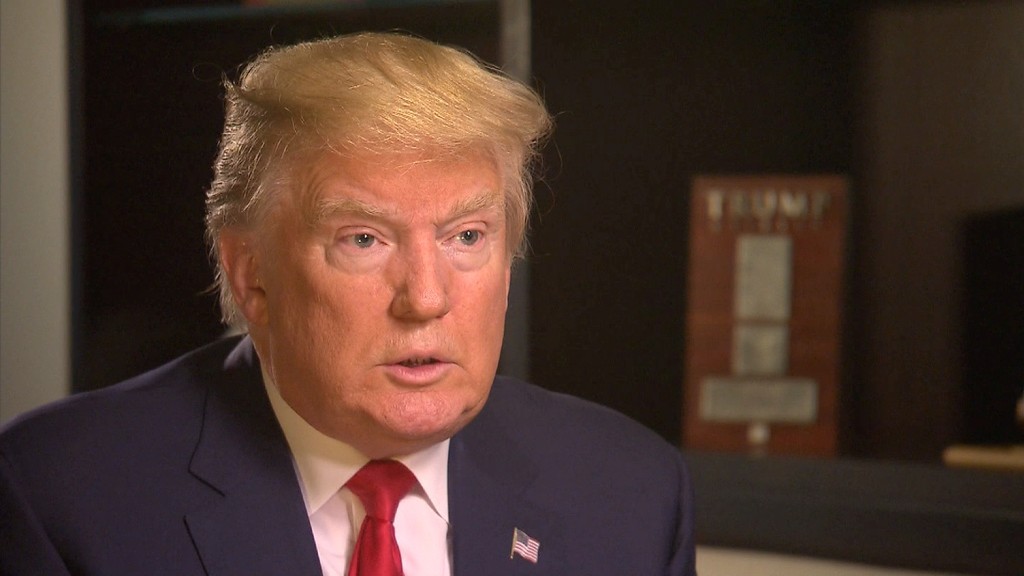 Donald Trump says he's unfazed by the prospect of running against Michael Bloomberg, the former New York City mayor who is considering a possible third party bid in 2016.
"I'd beat him," the Republican presidential frontrunner told CNN's Wolf Blitzer in an interview on Monday.
Trump said repeatedly that he didn't think Bloomberg was actually going to run, but said he'd welcome his entry into the race. "I would love him to do it actually. I love the competition. I love the competition. I would love for Michael to do it." Trump said.
The braggadocious real estate magnate also appeared to goad Bloomberg. At one point, Trump cast doubt on Bloomberg's business success, suggesting that the head of the Bloomberg media empire wasn't actually worth the $36.5 billion estimated by Forbes.
"I don't believe it, I don't believe it," Trump said.
Earlier in the campaign Trump claimed that Forbes had underestimated his own fortune.
Related: The never-ending fight over what Donald Trump is really worth
Trump said that the success of Bloomberg's company could easily be undermined if someone came up with a better machine than the Bloomberg Terminal, the costly financial data hardware that accounts for the bulk of Bloomberg's revenues.
"I mean if somebody came in... likely... and comes up with a better machine than him, people stop using it," Trump said. "I don't even know why other companies haven't come up with a better machine. I mean why? It's so simple. They come up with such a competitive world, but for some reason they haven't come up with a machine."
A spokesman for Bloomberg had no comment Monday.
Bloomberg, who has long been said to harbor presidential ambitions, has taken a more serious look at the 2016 race after concluding that Trump's victory on the right and a Bernie Sanders victory on the left could leave moderate voters without an alternative.
The fact that Trump's success seemed to encourage Bloomberg wasn't lost on the Republican frontrunner: "You know, we used to be friends," Trump said. "I guess we're not friends anymore."
Sign up for the Reliable Sources newsletter
As if to provide evidence of that friendship, Trump told Blitzer that he had once helped Bloomberg out with a construction "problem" the city had in the Bronx that was "way, way over budget."
"I took it over, I got it knocked out in one year, and now it's a tremendous success. Michael asked me if I'd get involved in it. And I'm the one that got it done and did a great job," Trump said, though he did not specify what the project was.