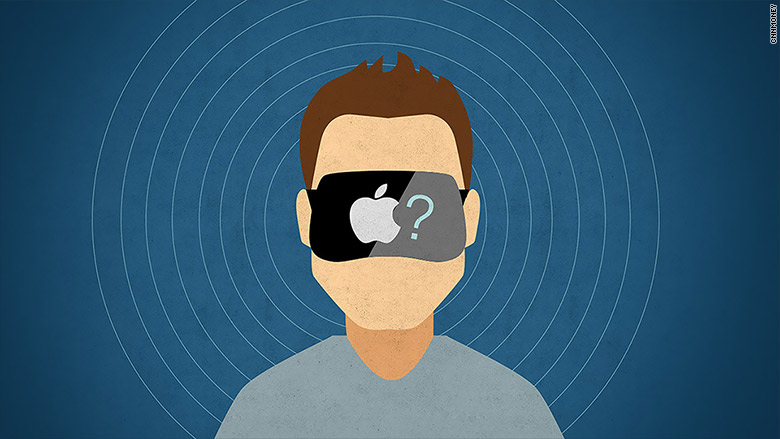 Apple may not have a virtual reality or augmented reality product on the market right now, but the company is definitely working on something related to those technologies.
Apple has spent a lot of time and energy on hiring, buying and designing potential devices over the past few years.
The company just hired Doug Bowman, a pioneer in the field of 3D user interfaces, according to a report in the Financial Times on Friday. He was a computer science professor at Virginia Tech and head of the school's Center for Human-Computer Interaction, according to his website.
Apple and Bowman did not respond to a request for comment.
He is one of several high profile engineers that Apple has hired since 2014.
Nick Thompson spent nearly three years at Microsoft (MSFT) as a principal HoloLens engineer focused on audio hardware, according to his LinkedIn profile.
Bennett Wilburn, another Microsoft alum, worked on machine learning technology for "human activity recognition." There was also a stint at Lytro, where he developed image processing software.
Graham Myhre also worked at Lytro, designing specialized camera lenses and sensors. His LinkedIn says he's now "investigating new display and optical technologies for future generations of Apple products."
Who Apple has acquired
In addition to growing its team of engineers, Apple (AAPL) has also acquired several smaller companies focused on reality-altering tech.
Last year, the company bought Metaio and Faceshift. Metaio develops AR platforms for phones and tablets. Faceshift makes tech that translates facial expressions into digital animations.
And two years ago, Apple snapped up PrimeSense, a 3D sensor startup.
What patents Apple has filed
At the moment, Apple and Amazon (AMZN) are the only major tech companies that don't have at least one known prototype of a virtual reality device.
But last year, Apple did receive two patents for video displays that are designed to be worn on your head.
One design looks like a pair of glasses that can support a smartphone. The other appears to be a standalone headset.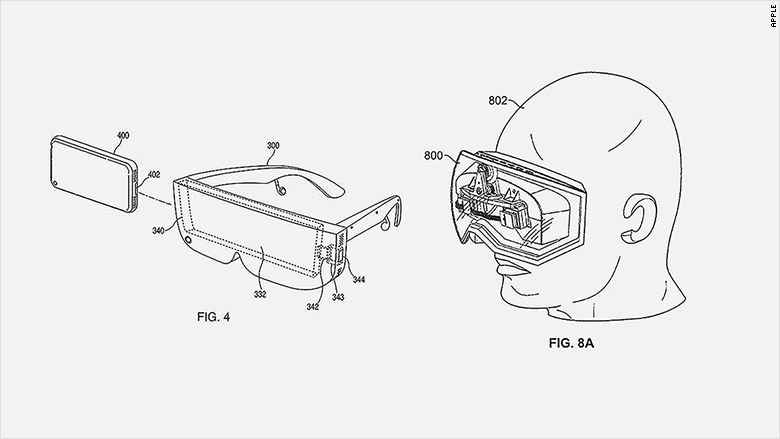 Why all of this is important
Virtual reality, augmented reality, and mixed reality could be the Next Big Thing in computing.
Investors, analysts, and entrepreneurs have spent the past two years sizing up market potential and imagining all the ways that entertainment, education and communication could change.
VR is meant to make people believe they're somewhere else; AR gathers information about where you are and gives you more data about it; and MR creates interactive digital spaces in the physical world.
Mass adoption of the new tech will likely take about 10 years. Apple could be selling VR products by then.
One investment research firm, Piper Jaffray, expects Apple to release a VR headset with one of its new iPhones as early as 2017.